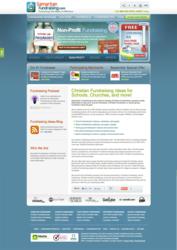 Fairfax, VA (PRWEB) September 30, 2011
Samaritan Fundraising, the innovative fundraising products company specializing in the fundraising needs of Christian organizations, launched a revamped version of their website earlier this month. The new design boasts a user-friendly layout that makes navigating throughout the site much easier than before.
Visitors to the site can now access information on various fundraising products offered by Samaritan Fundraising under one tab, condensed down from five on the previous site.
"What we wanted out of our new site was a more organized way of presenting information on our fundraising products to our visitors," said Tom Freiling, founder and vice president of Samaritan Fundraising. "We found that it was unnecessary for us to split information on the same fundraising product across pages, when we can condense the information onto one page without losing any important information. This makes our users' experience better because we've cut out the need to search on other pages of our site for more information."
In addition to rearranging the way information is presented to users on the Samaritan Fundraising website, the Christian fundraising products company has also added a few key features that were previously missing on the old site. One of which is a page highlighting Samaritan Fundraising's monthly fundraising special on the Samaritan Card, the company's best-selling, discount card fundraiser product, and the other being a couple pages dedicated to the history of Samaritan Fundraising as well as an introduction to the current staff.
"We wanted our customers to know who we are as a company and to avoid becoming a company with no personality," said Freiling. "By putting our history and images of ourselves on our site, we're hoping to make a more personal connection with our customers."
About Samaritan Fundraising:
Samaritan Fundraising is a national fundraising products company dedicated to providing churches, schools, youth groups, and non-profit organizations with innovative fundraising products to help them reach their fundraising goal.
Bought by Salem Communications in September 2010, Samaritan Fundraising has become a trusted fundraising leader among local and national faith-based groups.
For more information, visit http://www.SamaritanFundraising.com.
###