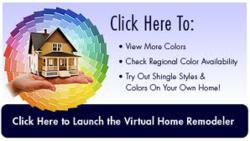 More and more property owners are looking online as well in to social networking sites such as Facebook and now Google+ for information and education
Edmond, OK (PRWEB) September 30, 2011
Reroof America Contractors, a regional residential and commercial construction company with 11 offices, has announced enhancements to its online tools for property owners.
"Online resources are increasingly important for property owners who are in the process of a home improvement project or researching qualified contractor", said Mark Lenzer, Vice President of Reroof America.
The tools include a virtual remodeler program that allows homeowners to upload a photo of their home and experiment with various types and colors of roofing as well as other exterior building products. Previous versions of this type of program only allowed property owners to use "spec" houses that resembled the architecture in their area.
Other recently added features to the reroofamerica.com web site include a variety of educational videos that outline several key products and systems including; asphalt shingle roofing systems, metal roofing, and gutter protection.
Informative areas of the site also provide home owners with insight in to insurance repairs, including several critical aspects of filing a home insurance claim and avoiding pitfalls that can result in costly repair problems.
In order to be more useful to homeowners and commercial property owners, the reroofamerica.com request for proposal portal for specific service requests now allows these potential clients to submit more detailed information on line.
"More and more property owners are looking online as well in to social networking sites such as Facebook and now Google+ for information and education" said Lenzer. "It is important to provide features on these platforms to make sure our customers have the information they need, in places where they spend more of their time", added Lenzer when he spoke about adding a way that customers can get their roof warranty information through their Facebook page.
About Reroof America
Reroof America Contractors, and Reroof America Management Corporation are owned and managed by J.R. Emrich, President. The company's began in the roofing industry in 1979. J.R. Emrich and his companies operate debt free and utilize multiple suppliers in several states. Bonding capability is up to 4 million dollars. The Dun and Bradstreet credit rating for the company is 1R2 and the D&B # is 83-696-7372.
Reroof America is based out of Edmond, OK, having completed over 60,000 roofs in over 15 states over the past 32 years.
Reroof America's primary business is residential roof replacement; however several locations have commercial divisions, window divisions and offer other residential construction solutions. Reroof America is fully licensed and insured in all states within which it operates, and is a member of NRCA, BBB and multiple local and regional associations.
For Information About Reroof America Contractors, Reroof America Corporation, Reroof America Management, or Metro Roofing, contact Mark Lenzer at: 405-330-5400 or mlenzer(at)reroofamerica(dot com) or follow reroofamerica on facebook or Google+.
###