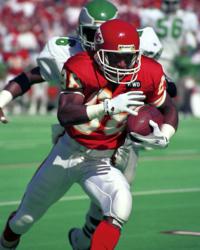 I recognized football was a mental game and realized the more I knew and understood the game, the more it would give me an edge.
Orlando, Florida (PRWEB) September 30, 2011
Champions are made--not born--certainly rings true in sports. Athletes who are graced with physical talent alone is not enough to excel to the top of the sports world. Top-level athletes learn how to succeed through experience, good coaching, and mental toughness.
That's what helped NFL veteran JJ Birden succeed. Now he's using this experience to help athletes learn how to perform well under pressure. He has teamed up with sports psychology coach Patrick Cohn, mental game coach to pro athletes and author of the popular Confident Athlete CD series.
Starting in October, Birden, along with Cohn, will offer a series of webinars for athletes and coaches to help them master the mental game under pressure. They'll also share tips about how athletes can perform well using sports psychology strategies.
"Athletes will learn how to develop mental toughness from the comfort of their own homes while interacting with an NFL start and mental coach to pro athletes," says Dr. Cohn.
JJ Birden was a track star in college at the University of Oregon, but decided to walk on as a football player. He turned his college career into a 9-year career in the NFL.
But Birden was small for a football player at 5'10." The pressure to be on top of his game was always present. He learned how to overcome this pressure. "I recognized football was a mental game and realized the more I knew and understood the game, the more it would give me an edge. When I got to the NFL, I studied the game so much that mentally I had an advantage, not only over other bigger receivers, but the defenders as well," Birden says.
Dr. Patrick Cohn, a sports psychology expert at Peak Performance Sports in Orlando, FL, says champion athletes have a special quality when they are under pressure. "The best athletes in the world are able to just focus and perform better than others when the game is on the line and others expect them to produce, " says Cohn.
More recently, Bill Haas defeated Hunter Mahan to win the season-ending Tour Championship and the FedEx Cup. The pressure of winning the tour championship was enough stress for him. But during the playoff, he was playing for an $11 million payoff for winning both the tour championship and the FedEx Cup, one of the biggest paydays in any sport.
Even the top players in the world feel the pressure to win, admits Haas. "The back nine on Sunday, guys like Phil Mickelson and Tiger Woods, they make it look like it's just a practice round sometimes, and I know in my head they don't feel that way. They're not relaxed, they're grinding. I get it," says Haas.
Hass describes what athletes feel when trying to stay calm under the pressure. "I'm like a duck on a pond. It's calm on top, but the legs are going fast under the water."
About Dr. Cohn
Dr. Patrick Cohn helps athletes and teams worldwide from a variety of sport backgrounds improve mental toughness for sports. He's the president and founder of Peak Performance Sports (Orlando, Florida) Peak Performance Sports, LLC owns and manages two leading online mental training sites for athletes, coaches and sports parents at http://www.peaksportsnetwork.com and http://www.kidssportspsychology.com.
About JJ Birden
As a former NFL wide receiver, he played with some of the greatest athletes who ever played the game, such as Bernie Kosar, Troy Aikman, Too-Tall Jones, Michael Irvin, Derrick Thomas, Joe Montana and Marcus Allen. After a nine-year career in the NFL, Birden looks for healthy products to relieve the physical discomfort caused by the pounding he took from some of the biggest and strongest athletes in the world. He now distributes Xocai's healthy chocolate products, which has given him significant relief from past football injuries.
For more information, contact Peak Performance Sports at 407-909-1700 or email Jaki(at)peaksports(dot)com.
###