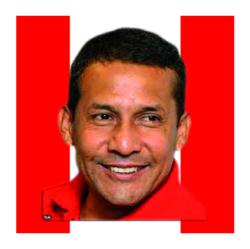 Political temporary tattoos add excitement to a political campaign's message and beliefs
Tucson, AZ (PRWEB) September 30, 2011
The recent Peruvian presidential election resulted in a close victory for Ollanta Humala on his second attempt for the office. Humala pursued a savvy strategy in which he positioned his run after the center-left former President of Brazil, Luiz Inácio Lula da Silva, generally considered one of the most successful politicians of our time. This strategy, and a variety of highly effective tactics, resulted in a victory of approximately 2% over his opponent. The Humala campaign used a tactic his competitors did not have – temporary tattoos – as part of a successful run.
Political advertising products have been used for generations. Ollanta Humala's campaign utilized custom temporary tattoos with four distinct designs. They included photos of the candidate on a background of Peru's flag and with a message for Peru. More than 4m tattoos were produced for a country with a population of 29m – a temporary tattoo for almost one in seven Peruvians. Tattoo Manufacturing is the world's largest manufacturer of temporary tattoos.
This was a highly effective and economical use of campaign dollars. The temporary tattoos provided the Humala campaign with walking billboards appearing all over the country for days and distribution of the candidate's political message to vast numbers of decided and undecided voters at a marginal cost per impression. The tattoos also helped Humala reach multiple generations as they are popular with all age groups and especially the young voter. They were distributed at rallies and events throughout Peru in difficult to reach areas where portability was a significant benefit.
Political temporary tattoos add excitement to a political campaign's message and beliefs. Temporary tattoos are ideal for any political group because they help prompt conversation and make people aware of certain political perspectives. Furthermore, by turning a political message into something people can wear, temporary tattoos are more cost efficient than other political campaign advertising products and more attention grabbing and environmentally friendly than printing flyers.
Ollanta Humala may not have won the Peruvian Presidential election because of temporary tattoos but they were part of a successful overall campaign strategy continuing the tradition of using political advertising products to achieve results.
Tattoo Manufacturing is the largest manufacturer of temporary tattoos in the world. The company is based in Tucson, AZ. Only non-toxic, hypoallergenic inks are used and all products exceed US, Canadian and EU safety standards. Printing processes are FDA certified and comply with CSPC and ASTM requirements. All products are made in the USA. Visit http://www.tattoosales.com or call 1-800-747-8016.
###