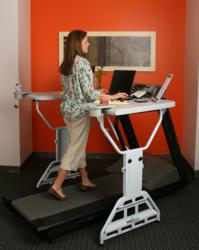 I have got a lot of patients off of anti-depressants because when you are walking it increases your endorphins, you are not tired at the end of the day, you want to get involved.
Scottsdale, AZ (PRWEB) September 30, 2011
TrekDesk treadmill desks have proven popular among a variety of professions from attorneys to investment advisors, however one profession has been much more effective at touting the benefits of walking while working, leading by example: medical professionals.
Often a physician's biggest challenge is persuading a patient to heed health directives and advice. Recognizing that exercise is medicine and the best way to spread the message is to lead by example, a number of medical professionals across the country are "walking the talk" with their TrekDesk treadmill desk daily.
Dr. Billie Minton, of Kingsport, TN recently explained her use of the TrekDesk during her daily practice in an interview with WNPR's Faith Middleton, "Someone said to me well if you are going to do this at work aren't you going to be distracting to your patients? I said, I certainly hope so. I want them to be distracted to the point that they know I am not just saying it,- I am doing it. I have got a lot of patients off of anti-depressants because when you are walking it increases your endorphins, you are not tired at the end of the day, you want to get involved, you want to do things, and the next thing you know the anti-depressants go away."
K.C. a PhD Nutritionist from Tigard, Ohio, promotes her TrekDesk as a life changing tool. "My focus throughout my entire professional career as a PhD Nutritionist has always stressed the importance of both diet and exercise. I have been a strong advocate for taking charge of our own health and fitness through lifestyle habits. To me, your TrekDesk offers a realistic way to provide the missing link for incorporating exercise into the normal day's routine. After 5-8 hours on the treadmill at work I can choose whether or not to add additional exercise to my total expenditure for the day. How nice to now have a choice rather than feeling so badly about doing nothing post work after sitting in a chair all day. My health is quite good but I definitely need to lose weight and lower my cholesterol and blood pressure. The last 12 years have been spent at a desk with very little opportunity to be active. Now, I no longer have an excuse!"
M. R., a corporate nurse in Indiana practices what she preaches to employees bringing her TrekDesk into the office. "My goal is ultimately 5 miles a day which would be 100 miles in a month and 1,200 miles in a year. There are large companies that offer treadmill desks to their employees with the hope that they will be healthier and not have as many insurance claims. The companies will benefit and the employees will benefit," I really believe that this will continue to grow," she stated in an interview with the Herald Argus.
Dr. Michael Roizen (YouDoc partner of Doctor Oz) of the Cleveland Clinic actually has a TrekDesk at work and at his personal residence. "Love the chance to walk at breaks and do conference calls while walking with my TrekDesk Treadmill desk…—really an easy way to get healthy and try to lose 10 (lbs) while also trying to quit diet sodas," he stated in an online interview.
Designed to fit any existing treadmill, TrekDesk is an affordable, full sized workstation that allows individuals the opportunity to gain the necessary amount of exercise daily to maintain health, prevent disease, strengthen muscles, boost mood and productivity, without requiring additional time during the day or extra motivation.
TrekDesk is currently available for sale online at TrekDesk.com for $479.00 including free shipping.
Join the TrekDesk "Movement Revolution" to learn more on TrekDesk's Facebook page.
# # #