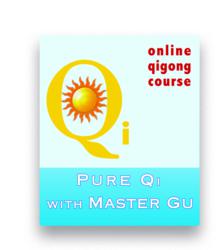 "Autumn is the season for harvesting, when all of nature prepares for winter. Pure Qi is the practice that helps this happen everyday."
Petaluma, CA (PRWEB) September 30, 2011
The Pure Qi series continues with Course 2.0 to prepare mind and body for Autumn. Course 2.0 focuses on "Open Your Flow of Abundance". Autumn is the time when the cooler weather reminds all life to gather and prepare for winter ahead. Worry and excessive thinking can increase and stagnate the flow of ideas and energy, so that the body's digestion is challenged and slows down. This Qigong series will train the mind and body to manage energy flow, building ability to be more thoughtful, grounded and attract abundance in life.
"The Autumn is a season for harvesting, when all of nature prepares for winter. Pure Qi is the practice that helps this happen every day. Qigong can activate abundant energy within, so it continues flowing through the winter months ahead. It takes a conscious, daily practice to prepare." Master Gu will teach the ancient healing sounds for the Digestive system. Four week Course available in Beginner or Intermediate level. Learn real-time with Master Gu the Teachings, Training & Practice of Wisdom Healing Qigong. Master Gu introduces the teachings and demonstrates step-by-step, the gentle movements, meditation, visualization and sound, combined with a practice session at each class. This series helps develop the skills and confidence to continue a home practice, that will benefit vitality and response to stress, illness, aging and injury.
About the Chi Center:
Master Mingtong Gu is an internationally recognized teacher of Wisdom Healing Qigong. Master Gu is the founder of the Chi Center, which offers regional events, classes, retreats and online programs for the public, professional wellness practitioners and Qigong teacher training. He is the author of publications, including Wisdom Healing Qigong and Sound Technologies. Master Gu received his Qigong training from grandmasters in China and Tibet and at the world's largest Qigong medicine-less hospital in China. Founded in China over 5000 years ago, the Qigong practice improves energy and wellness through gentle movement, meditation, sound and visualization. The Chi Center is based at the Earthrise at IONS retreat center in Petaluma, CA.
###