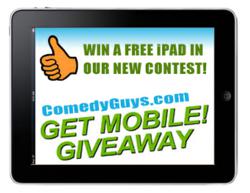 Our Get Mobile! Giveaway is getting close to the end, but it's certainly not over yet. People still have until the last day of October to enter and win two of the three prizes
Richardson, Texas (PRWEB) September 30, 2011
With the October 30 deadline approaching, time is running out to enter the Get Mobile! Giveaway photo caption contest sponsored by Comedy Guys Defensive Driving. The first week of November the Dallas based driving safety school will be announcing the three winners of a new Apple iPad 2.
"We began this contest last spring to bring attention to how well our online defensive driving course worked on iPhones and iPads, as well as Android phones and tablets. But people seem to be having a lot of fun with it, which is great to see," said Comedy Guys co-owner Cash Cooper.
THREE WAYS TO WIN
The contest, as announced in March, had three components, each of which is giving away one Apple iPad 2.
In fact, it is already too late to enter one of the three components of the contest. Entrants had until July 31 to submit a funny caption to the contest photo which features defensive driving instructor and comic actor Terry Yates reading a map while driving. Since August 1, people have been reading the almost two hundred captions and voting as often as once per day for their favorites. The person whose caption receives the most votes by the end of the day on October 30 will receive the Apple iPad 2.
The other parts of the contest are still wide open to anyone who wishes to enter.
"Our Get Mobile! Giveaway is getting close to the end, but it's certainly not over yet. People still have until the last day of October to enter and win two of the three prizes," added Cooper.
One contest component is entered by texting the message MYIPAD to 69302 before October 30, 2011. Everyone who sends the message will have their phone number entered into a random drawing for another of the Apple iPads.
The final way to enter is to visit the contest website and cast a vote for a favorite caption. Everyone who registers and votes for a caption will be entered into a random drawing to win the final Apple iPad 2. Participants are permitted to vote as often as once per day between August 1 and October 30. The contestants who submitted captions are also welcome to vote for their own entry and to encourage their friends and family to do the same.
ABOUT COMEDY GUYS
Comedy Guys is one of the largest Texas defensive driving schools, with both an online defensive driving course and live classes at more than 30 locations. The Comedy Guys Defensive Driving course is licensed by the state of Texas and meets court requirements for ticket dismissal. Details of the online course and complete schedule of defensive driving classes is available on the Comedy Guys website.
# # #