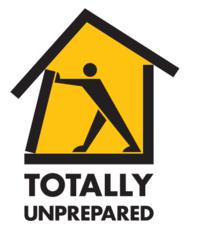 Just when families think that they have done all they can to prepare for an earthquake, "Totally Unprepared" comes in to show them what they may have missed.
Sacramento, CA (PRWEB) September 30, 2011
The Gingerys have taken great care to secure heavy items such as bookshelves and televisions in case of a quake. However like many Californians, they have overlooked a number of little things throughout their home which also pose a big danger. Over the next couple weeks, Totally Unprepared will get them on the right track.
The "Totally Unprepared" campaign is a year-long collaborative effort between the California Emergency Management Agency, the California Seismic Safety Commission (CSSC) and the California Earthquake Authority (CEA). It is a unique and insightful multimedia campaign that aims to help Californians better understand their risk of earthquakes and how to prepare for them.
Based on recent research about what does and does not motivate people to prepare, "Totally Unprepared" uses social media, video, and mobile applications to increase pervasiveness of earthquake preparedness issues. A special 30-minute program is also being aired on twelve California Public Television Stations throughout the month of September.
Connect with Totally Unprepared for the latest information and resources at the following websites:

totallyunprepared.com
YouTube.com/weareunprepared
Facebook.com/totallyunprepared
Twitter.com/weareunprepared
For more information about preparing for earthquakes and other hazards, visit http://www.calema.ca.gov.
A message from CEA: With earthquake insurance from the CEA, you and your family will have the financial strength to rebuild. Working with our network of leading insurance companies, we provide claim-paying power and expert service. Together, we're providing peace-of-mind no earthquake can shake. For more information, visit http://www.EarthquakeAuthority.com.
The California Emergency Management Agency (Cal EMA) coordinates overall state agency preparedness for, response to and recovery from major disasters. Cal EMA also maintains the State Emergency Plan, which outlines the organizational structure for state management of the response to natural and manmade disasters.
###