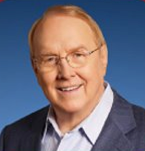 "They have kept the wheels turning, and I am proud of them."
Colorado Springs, CO (PRWEB) September 30, 2011
Dr. James C. Dobson, PhD., well-known Christian psychologist, author and radio broadcaster, has been released from a Colorado hospital where he was recovering from injuries received in a horseback-riding accident two weeks ago in Montana. He sustained a serious back injury while competing in a horse event, sustaining fractures to his clavicle and scapula, but is now recovering sufficiently to be able to go home.
Dr. Dobson will soon be resuming his duties --including daily radio-- at Family Talk, the new communications ministry he founded early last year. In the meantime, he expressed his personal appreciation to the Family Talk staff for maintaining a smooth-running organization in his absence. "They have kept the wheels turning, and I am proud of them," Dr. Dobson stated prior to leaving the hospital.
Since his accident and injuries, personal updates from the Dobson family have been posted on the Family Talk website __Press Releases__.
Broadcast co-hosts, LuAnne Crane and Ryan Dobson, alerted Family Talk radio listeners about the Montana incident, and mention was also made on the organization's Facebook site, resulting in an overwhelming outpouring of concern from a great number of friends and constituents. Dr. and Mrs. Dobson have been touched by these many expressions of love, support and prayers. Facebook
More than 30 years ago, Dr. James C. Dobson, Ph.D., founded Focus on the Family. Undertaking a significant "recalibration" of ministry direction, Dr. Dobson began a transition out of leadership at Focus on the Family in 2003, which ultimately led to the conclusion of that long history with Focus as of February 2010. Confident, however, of God's continued call on his life, Dr. Dobson is continuing to speak to families through an exciting new radio and internet-based family ministry launched in early 2010 called Family Talk. This new organization produces a daily 30-minute radio broadcast, Family Talk with Dr. James Dobson. In articulating the objectives for this new endeavor, Dr. Dobson has reiterated: We will be dealing with child-rearing, marriage, a wide variety of family topics, and of course, cultural and political issues. Our country is facing desperate circumstances now, and the family needs all the help it can get. Thus, we are circling back to 1977, when I left [USC] to address the same concerns. The Family Talk broadcast is already heard on over 700 U.S radio stations.
Dr. Dobson began his "family focus" as an Associate Clinical Professor of Pediatrics at the University of Southern California School of Medicine, serving for 17 years on the Attending Staff of Children's Hospital of Los Angeles in the Division of Child Development and Medical Genetics. He earned his Ph.D. from the University of Southern California (1967) in the field of child development.
With that platform of credentialed expertise, Dr. Dobson turned to writing; his first volume (Dare to Discipline) becoming a best-seller -- as did those which followed including The Strong-Willed Child; Love Must Be Tough; Life on the Edge; Night Light for Parents and When God Doesn't Make Sense. In April 2010, Bringing Up Girls (a much-anticipated companion to the popular Bringing Up Boys, 2002) was released.
Click here for more information
Contact: Paul Hetrick 888-743-0329
###