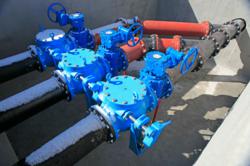 We are focusing on interactive educational experiences on our new website rather than sales.
Sparks, NV, September 30, 2001 (PRWEB) September 30, 2011
Jensen Engineered Systems, a division of Jensen Precast, announces the launch of their new website as an information resource for engineers, contractors, governments, and end users concerned with pump stations, lift stations, booster stations, meter vaults, and pressure reducing vaults (PRVs).
"We designed the new website to be more of an educational site with timely and relevant information for our visitors, than a selling tool," said Eric Jensen, Chief Marketing Officer for Jensen Precast. "When we decided to redo our website, we talked to our customers to see what kinds of features they would like to see. We really listened to them and tailored the new site specifically for them."
The result is an interactive website with a sense of community that provides true learning experiences. It is easy to navigate and find the exact information you are looking for pertaining to their products.
One of the new features is a blog where visitors can find timely information on topics important to the water treatment industry. Visitors can also make comments and communicate with their peers.
Another unique feature is a design center on the site where the engineers at Jensen Precast discuss the thought processes and ideas that go into their product designs.
For customers, there is also a "member only" section where they can log in and access all the calculations, control panel configurations, drawings, specs, and submittals for their jobs at any time, day or night.
"We think the new site is a huge improvement and we want to just keep making it better, said Tyler Haack, Manager, Jensen Engineered Systems, "And we want to continually improve upon it so we welcome any comments or suggestion.
Jensen Engineered Systems, a division of Jensen Precast with corporate offices in Sparks, NV, designs wastewater, stormwater, and clean water pump and lift solutions for customers throughout Southwestern United States and Hawaii.
Jensen Precast, founded by Don Jensen in 1968, is one of the largest independently owned precast concrete manufacturing companies in the United States. With corporate headquarters in Sparks, NV, Jensen Precast has 12 production facilities throughout the Southwest and Hawaii. Jensen Precast designs and manufactures standard and custom precast concrete products to meet small to large-scale infrastructure demands. Jensen Precast products are made in the USA and are used in highway construction, retaining walls, electric and gas utilities, telecommunications, stormwater capture and treatment, rainwater harvesting, on-site wastewater, sewage applications, above ground fuel storage, and more.
For more information contact:
Marcia Neese
Dir: 775-352-2709
http://www.jensenprecast.com
###