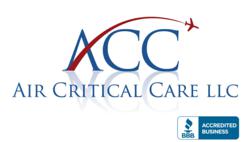 "To provide the best care, the medical flight crew on a critical care air medical transport may include a physician or other specialty staff,"
Port Charlotte, Florida (PRWEB) September 30, 2011
Air Critical Care LLC, of Port Charlotte, Florida, with offices nationwide provides highly skilled and experienced critical care teams of nurses and respiratory practitioners whether it's simple nursing home level of care or serving the most critically ill or injured. The enhancements to the critical care service start with new state of the art medical monitoring systems for aircraft and additional medical training. The company is dedicated to the patient and has spent the last year updating to new critical care monitors by Zoll.
"The level of care received in air ambulance transports should be of the utmost importance to anyone involved in arranging the long distance transfer of a patient," said David Garrard, BHS, RRT, RCP, CCEMTP, PNCCT. Air Critical Care has expanded this level of care with the adding of new Zoll CCT critical care monitoring equipment since our goal is to ensure that the patient is receiving the very best level of care and the teams are capable of treating any in-flight change in patients condition.
According to Garrard, the Air Critical Care has added more critical care teams to provide services such as air ambulance in Illinois, Michigan, New York and Forida, around the clock and stand ready to respond around the world. These teams are being updated with the state of the art Critical Care equipment.
Basic, Advanced, and Critical Care
From Basic Life Support (BLS) when a patient requires minimal external life support, but also may need to be monitored 24/7 during the transport. Advanced Life Support (ALS) is the second phase of air ambulance transport critical care which include patients who may require the equipment and medical flight care to manage the BLS functions as well as cardiac defibrillation, ability to control and monitor dysrhythmia, administer drugs, and establish and maintain respiratory airways.
"As an example," said Garrard, "Patients requiring ALS may have suffered a trauma, burns or cardiac failure."
According to Garrard, critical care is the highest level of care which is typically for patients who are severely ill or injured.
"To provide the best care, the medical flight crew on a critical care air medical transport may include a physician or other specialty staff," he explained. "Patients requiring a critical care air ambulance transport must utilize a private air ambulance service like that of Air Critical Care."
Air Critical Cares teams are augmented with the appropriate medical staff and state of the art equipment based on the needs of the patient. Our approach to care is aligned with the exact medical team configuration provided by every hospital or healthcare facility in the country. We just do it in the air."
A CASE IN POINT: How Air Pressure Can Be Life Threatening
Ensuring the right resources are readily available at a moment's notice is critical to effective and efficient air medical transport, as David Garrard BHS, RRT, RCP, CCEMTP, PNCCT, Clinical Director, Air Critical Care (ACC), LLC explained about ACC's recent transport from Florida to Maine.
"The patient was involved in a motor vehicle collision while on business in Florida," Garrard said. "He was thought to have only very minor injuries including a broken leg. He was admitted to a standard room (the lowest level of care) after a brief stay in the emergency department. After a day or two the family contacted ACC to arrange non-emergency medical transport t home.
According to Garrard, the medical report was simple: minor injuries requiring pain medication occasionally as needed. The referring facility also stated initially he had what they believed was an extremely small pneumothorax (air trapped in the chest wall out side of the lungs) but subsequent chest x-rays had not shown it, added Garrard.
"Our team accepted care, completed their physical exam and transferred him to our equipment. They proceeded by ground to the airport and loaded the patient onboard the aircraft and departed. Midway through the flight the patient developed acute respiratory distress and dropped his blood pressure to very dangerous levels. Our team quickly determined the patient had no breath sounds on the right side and that he had developed a tension pneumothorax, when air becomes trapped outside the lungs in the chest wall."
Garrard said tension pneumothorax can develop under pressure squeezing both the heart and the lungs resulting in the inability for the heart to pump blood or the patient to breathe.
"This is an extremely life threatening condition," he said. "Our team quickly inserted a long needle into the chest creating a vent for the air to escape. But this was an emergent temporary solution. Our team then placed a surgical chest tube. This is where a small incision is cut into the chest and a large tube is placed and hooked to suction. This is a skill most teams cannot perform. In this case, the patient had a small pneumothorax that the doctors thought had been resolved. However, at altitude, the laws of physics caused a small amount of air to expand into a life threatening situation which we managed quickly and yet with the utmost quality of patient care."
As the leader in medical transportation and air ambulance services, Air Critical Care LLC offers worldwide service 24/7 throughout the U.S., as well as air medical transportation with the support of a network of offices throughout the United States, including medical transport in Arizona, Michigan, New York, and Florida. In addition to air ambulance, Air Critical Care LLC provides medical escort services and commercial stretcher services on international flights.
# # #