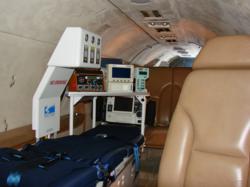 the Air Critical Care critical care team provides air ambulance emergency services, as well as on-emergency air medical transport, around the clock and around the world.
Basic, Advanced, and Critical Care
New York City, NY (PRWEB) September 30, 2011
Air Critical Care LLC the leader in Florida air ambulance services, has expanded into Port Charlotte, Florida with a new 2000 square foot office, located at 4678 Tamiami Trail. This is home for corporate marketing, sales and crew staffing for Southwest Florida. The company said it plans to expand with a new hanger in a month in this same Southwest Florida area.
According to Michael Peat, the Air Critical Cares critical care team provides air ambulance emergency services, as well as non-emergency air medical transport, around the clock and around the world. In addition to medical flight transport they provide medical escort services and commercial stretcher services on international flights.
From Basic Life Support [BLS] when a patient requires minimal external life support, but also may need to be monitored during the transport. Advanced Life Support [ALS] is the second phase of air ambulance transport critical care which include patients who may require the equipment and medical flight care to manage the BLS functions as well as cardiac defibrillation, ability to control and monitor dysrhythmia, administer drugs, and establish and maintain respiratory airways. Air Critical Cares teams stand ready for any level of care.
To provide the highest level of care, the air medical services crew on a critical care air medical transport may include a physician or other specialty staff," he explained. "Patients that may require a critical care air ambulance transport must utilize a private air ambulance like that of Air Critical Care."
# # #