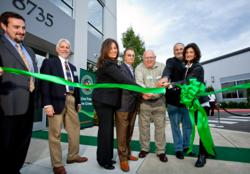 Lacey, Wash (PRWEB) September 30, 2011
Earth Friendly Products (http://www.ecos.com), a leader in manufacturing award-winning eco-friendly cleaning products, officially opened its doors at the company's Lacey, Wash., facility today, and dedicated the plant to all of the children of the Northwest. Vowing to create more new jobs that help boost the local economy, company officials announced Earth Friendly Products' plans to support environmental education and kicked-off an initiative focused on children by presenting the local Boys & Girls Club with a $5,000 donation. The celebration included a "green carpet event," a ribbon-cutting ceremony and tours of the new plant for federal, state and local government officials, as well as a keynote speaker address and a luncheon.
Egils Milbergs, the Executive Director of the Washington Economic Development Commission spoke to the event's attendees about the state's 'clean' economy and expressed support for the green company's plans to Safeguard the State and sustain "clean" low-carbon footprint sector with job creation, sustainable activities and environmental education. Following the ceremony guests and officials were given private facility tours to demonstrate just how the company makes their green products and explain their progressive business initiatives that have already earned the facility the Thurston County Economic Development Council's New Business of the Year Award.
Also in attendance was the Director of the Washington State Department of Ecology Ted Sturdevant, President of the Lacey Chamber of Commerce Jerry Farmer and Mayor Tom Nelson.
"At a time when Americans are feeling the strain of the economy, we are even more determined to focus our efforts on making products that contain only safe, all-natural and sustainable ingredients," explained Van Vlahakis, founder and CEO of Earth Friendly Products. The company has received numerous honors over the years for its integrity and dedicated eco-conscious mission, but just as noteworthy, is their dedication to boosting company morale and the local job market.
Earth Friendly Products touts an incentive program designed to reward employees for hard work and overall dedication to sustainability. All employees who purchase hybrid, electric and biofuel cars receive $2,000 rebates. The company gives 20% rebates on top of already-in-place state and federal tax incentives toward the purchase and installation of solar panels at employees' primary residences. For Earth Day 2011, employees received up to a three-week pay bonus. "We give recognition and incentives to our employees. It's because of their work and devotion to the company and the environment, that we have become a leader in our field," said Kelly Vlahakis-Hanks, Vice President of Earth Friendly Products. The company also purchases its supplies locally, supporting other small businesses and the local economy, while reducing their carbon footprint.
Earth Friendly Products has five diverse manufacturing facilities across the nation. More recently, Earth Friendly Products hosted the grand opening of its new corporate headquarters in Addison, Ill. This manufacturing center boasts 312 solar panels on its roof, making it the largest solar-powered commercial facility in Illinois. Earth Friendly Products has been making green a priority for over two decades with more than 150 all-natural, environmentally-friendly home and industrial cleaning products. To learn more about what Earth Friendly Products is doing for the environment, please visit http://www.ecos.com
About Earth Friendly Products
Earth Friendly Products is the leader in the development and production of environmentally friendly cleaning supplies for household and commercial use with over 150 products manufactured, distributed, and sold in the USA, Canada, Europe, South America, and Asia. All Earth Friendly Products are created with only replenishable and sustainable plant-based ingredients that are safe for people, pets, and the planet. The company proudly adheres to its strict "Freedom Code", a list of harmful and toxic ingredients that are not found in any its products. Earth Friendly Products has proudly received the 2010 GEELA Award for Sustainable Business Practices, 2009 Green PatriotTM Green 100TM Designation and the Champion level recognition from the US EPA through the Design for the Environment (DfE) Program's Safer Detergents Stewardship Initiative. The company's solar division, Progressive Power Group is just another example of how Earth Friendly Products is a sustainable business leader.
Editor's Note: For more information about Earth Friendly Products, or to speak with Vice President Kelly Vlahakis-Hanks, please contact Nancy Trent or Pamela Wadler at (212) 966-0024.
###