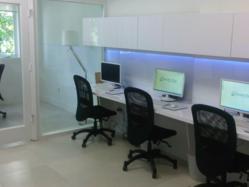 Avanti Way is about reinvesting in innovation
Miami, FL (PRWEB) November 10, 2011
Avanti Way continues to pioneer in the real estate industry with the official opening of their first two Agent Hub Spots in Aventura and South Beach which defy the traditional real estate office concept. The Agent Hubs feature smart door technology which allows Avanti Agents to gain 24/7 access right through their mobile phones and changes the way real estate agents use physical workspaces.
When asked about their newest breakthrough concept of Agent Hub Spots, Andres Korda, Co-Founder and Managing Director of Avanti Way, explained, "Realtors want to complement their virtual office and paperless culture with a place to use as a fast workspace, to go in and out: scan, meet clients, access a computer, get supplies, print a check, and serve as a touch and go HUB rather than go into a place for distractions… that's the concept behind these revolutionary state-of-the-art, smart and stylish office locations that are just what agents require, on demand. They have all the centralized support they need, efficiently managed though their advanced technology, and if they do want the warmth of a person-to-person aid, our Staff Members are always accessible via phone, online tools, or at our headquarters near Doral. Help is always available, 24/7, no matter where they are."
Creating these unique spaces without the need of any on site staff members was achieved by leveraging Avanti Way's propietary back office support technology. The state-of-the-art locations create a physical space that act as complements to their virtual technology, and add to their philosophy of always being on the cutting edge of the industry. They started with AVEX, the patent-pending, completely virtual and paperless system that allows their agents to access everything from contracts, transactions, listings, leads from anywhere in the world, to a set of organizational and communication tools including an international web phone.
"[AVEX] has everything you need, everything, all in one place." Adds Co-Founder and President, Enrique Teran, "With an Internet connection, you can upload escrow deposits, print your own commission checks, sign the documents in your cloud, and handle any transaction, anywhere on the planet, with 100% efficiency".
"Avanti Way is about reinvesting in innovation", explains Andres Korda, "always defying what is current and looking ahead to create the next big thing that would add value to the people that form part of its community and the real estate industry at large." It is precisely this vision that catapulted this once small Real Estate Firm to grow over 500% in just four years.
The Aventura Hub Spot is located at 17501 BISCAYNE BLVD. #340, in AVENTURA, FL 33180. The South Beach Hub Spot is located at 1410 20TH STREET #216, in MIAMI BEACH, FL 33139; both are strategically positioned at key highly transacted real estate areas so agents can stop by to take advantage of these business centers 24/7.
Office equipment includes: desktop and laptop stations, flat screen TV, VOIP phones, printer/scanning machine integrated to the Avanti Way cloud, general office equipment, and the company's revolutionary Check Express Way escrow and commission e-check disbursement Kiosks.
In addition to the standard office supplies provided without charge, the South Beach location will also offer agents a chance to purchase additional supplies over the phone: "Our staff will open the supply drawer remotely and monitor it through a video surveillance system. It's really amazing." Adds Cecilia Teran, Co-Founder and Head Broker.
Broward and South Miami Hub Spots are next on the list for the first half of 2012.
"Our goal is to create simpler, faster, and better tools that define a new reality - a reality initially thought of as a faraway dream for our industry, but that later becomes a breakthrough that gets established as the new norm." Adds Korda.
If their company philosophy is to be judged, then Avanti Way is gearing up to be the ones creating these "new norms", or as their slogan puts it, it's about "Real Estate Done Right".
For Information call:
Gloria Rodriguez de los Reyes
Media, Branding & Team Building
305.229.1146
gloria(at)avantiway(dot)com
###