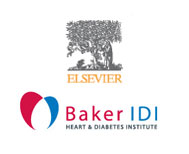 Over 350 clinicians, GPs, dieticians, nurses, public health practitioners and educators from a variety of countries are expected to attend the comprehensive two-day programme...
Sydney, New South Wales (PRWEB) July 19, 2011
Elsevier and Baker IDI Heart & Diabetes Institute invite delegates to register for the second Asia Pacific Conference on the Metabolic Syndrome (APCMS), to be held in Sydney, Australia, in November 2011.
Following the success of the inaugural APCMS event, held in Melbourne in 2009, the conference will bring together healthcare professionals from around the region. Over 350 clinicians, GPs, dieticians, nurses, public health practitioners and educators from a variety of countries are expected to attend.
The 2011 Asia Pacific Conference on the Metabolic Syndrome comprises a comprehensive two-day programme focused on the theme 'Meeting the cardio-metabolic challenges of the 21st century'.
The event takes place on November 4-5 2011 at the Sydney Convention Centre in the city's iconic Darling Harbour precinct.
Cardio-metabolic complaints, including obesity, diabetes and cardiovascular disease, continue to be major public health concerns in Australia, New Zealand and the Pacific Islands and increasingly in Asia.
APCMS 2011 encompasses the aim of establishing 'a community of Asia Pacific clinicians to guide and improve understanding, prevention, treatment and outcomes of the metabolic syndrome'.
Conference Programme
The APCMS programme boasts around 40 esteemed speakers and session chairs – including physicians from around the Asia Pacific region, leading specialists from hospitals and universities across Australia and representatives from Baker IDI Heart & Diabetes Institute.
The conference will comprise plenary lectures and informative meet-the-expert sessions, along with workshops, small group learning and networking opportunities. Open forums provide the opportunity for discussion and debate to maximise professional development.
Members of the medical community wishing to attend this platform for continuous exchange should register at http://apcms.net/registration_online.asp
Early Bird payment options are available until the end of July and discounted group bookings can be arranged by emailing apcms11@elsevier.com.
The APCMS website also features a variety of information on the program, the venue, and Sydney itself.
About Elsevier
Elsevier is a world-leading publisher of scientific, technical and medical information, and serves more than 30 million scientists, students and health information professionals worldwide.
For over 125 years, Elsevier has delivered world-class information and innovative tools to researchers, educators and practitioners. With a global scholarly community of 7,000 journal editors, 70,000 editorial board members, 300,000 reviewers, and 600,000 authors, Elsevier publishes over 2,000 journals and 19,000 books, with 2,000 new books each year.
The mission of Elsevier Health Sciences is to advance medicine by delivering superior education, reference information and decision support tools to doctors, nurses, health practitioners and students. Serving 20 million allied health professionals, students, medical researchers, pharmaceutical companies, hospitals, and research institutions, Elsevier Health Sciences is passionate about publishing trusted, leading-edge medical information – pushing the frontiers and fuelling a continuous cycle of exploration, discovery and progress.
Elsevier Health Sciences is the publisher of key international journals, including The Lancet, Diabetes Research & Clinical Practice, Journal of the American College of Cardiology, Obesity Research & Clinical Practice and European Heart Journal.
Elsevier is uniquely equipped to serve the specific needs of clients in Asia, balancing regional expertise with global resources. As the leading professional organiser of medical, healthcare and pharmaceutical events, Elsevier manages numerous conferences and exhibitions that rank among the highest in its niche sectors worldwide.
About Baker IDI Heart and Diabetes Institute
Baker IDI Heart & Diabetes Institute is an independent, internationally renowned medical research facility. Our work extends from the laboratory to wide-scale community studies with a focus on diagnosis, prevention and treatment of diabetes and cardiovascular disease.
Our mission is to reduce death and disability from cardiovascular disease, diabetes and related disorders; two insidious and complex diseases responsible for the most deaths and the highest costs in the world in terms of treatments and hospitalisation.
Our main laboratory facilities located on the Alfred Medical Research and Education Precinct (AMREP) in Melbourne are complemented by a national network that includes a research facility in Alice Springs dedicated to indigenous health and a preventative health laboratory in South Australia with a focus on nutrition and community intervention research.
###