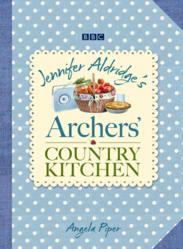 (PRWEB UK) 26 October 2011
Jennifer Aldridge's Archers' Country Kitchen - request your review copy of Angela Piper's new book.
"I headed back and escaped down Borsetshire's winding lanes. There, in the comfort of my farmhouse home, I rifled in drawers and poked into boxes, finding cards and old calendars, cuttings and snippings, notelets and jottings – even funny old photos that I knew I'd forgotten. Just a glorious jumble of colourful memories. This is my personal pot pourri of our country kitchens."
The Archers is the world's longest running soap opera and regularly attracts more than five million listeners. It's also the most popular BBC on-demand download.
Angela Piper has been at the heart of the Archers since 1963, playing Jennifer Aldridge since 1963 through everyday rural dramas to illegitimate pregnancies and extra marital affairs. Following the success of Jennifer Aldridge's Archers' Cookbook this fully updated edition of The Archers' Pantry has been revised to match storyline developments with new recipes from the pen of Jennifer herself.
The book was a labour of love for Angela who undertook all of the research herself. She shares with us some of her favourite recipes that she has collected over the years. Her character Jennifer Aldridge, long-term resident of Home Farm, Ambridge, loves nothing more than creating delicious treats for her family and friends and Angela shares this passion. From Susan Carter's simple salmon and parsley fishcakes, to daughter Alice's controversial wedding party menu, there are over 150 mouth-watering seasonal dishes to enjoy.
With Jennifer's private musings alongside hints, tips and words of wisdom from well-loved characters, Jennifer Aldridge's Archers' Country Kitchen is an irresistible invitation to dip into the kitchens of Ambridge and join in the 60th anniversary celebrations of this famous Borsetshire village. This Archers cookbook is an irresistible present for every Archers' fan.
Jennifer Aldridge's Archers' Country Kitchen is published by David & Charles at £12.99.
Angela lives in Essex and commutes regularly to Birmingham. Please contact Brian O'Donnell if you would like a review copy of the book, any images, or to interview Angela Piper.
###