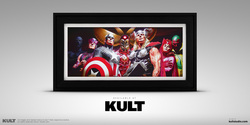 We tried our best to bring collectors the same kind of visual stimulation that you get at a well-appointed walk-in gallery. Our vision was to create a fun, dynamic visual-based browsing system while still offering some standard ways to shop for artwork.
Los Angeles, CA (PRWEB) April 20, 2011
Art and design mavens Brandon Savoy and Jeff Mackey have launched KULT Studio, a new design-forward approach to viewing and shopping for artwork online. Currently showcasing the art of animation, comics and other works of American pop culture, the hand-selected KULT collection is comprised of original production art and rare limited editions from an assortment of popular comics, animated movies and TV shows. Works from both established and underground artists are represented from studios such as Disney, Warner Bros., Marvel, DC Comics, 20th Century Fox and Lucasfilm.
Visitors to the site will find it aesthetically appealing, easy to navigate and sophisticated. As part of the "Now Generation," Savoy and Mackey wanted to bring to KULT the same type of user experience that they themselves enjoy from different parts of the web. The highly-intuitive navigation, unique visual art search, frame-style selector and vibrant high-resolution images are all highlights of the KULT experience.
The art of animation and comics seems a perfect fit for KULT's design style, coming at a time when this genre of art is more popular than ever. Every year, several pop-culture mega-gatherings such as Comic-Con and WonderCon bring in more comic and animation art fans from the mainstream. Summer blockbuster movies like "Iron Man," as well as the anticipated upcoming releases from Marvel's "Avengers" franchise ("Thor" and "Captain America: The First Avenger" due out this summer) will likely catapult the comic art market to new heights. A recent Marvel Avengers art release by esteemed comic artist Alex Ross entitled "Assemble" sold out in just days.
Some incredible recent valuations have furthered the reverence toward animation art and comics as big-time collectibles, on par with the fine art market: A copy of "Action Comics #1" (1st appearance of Superman) sold for a record $1.5 million dollars in March of 2010. A recent Heritage auction in February 2011 valued an original production cel of Mickey Mouse at approximately $100,000.
The co-founders seek to expand KULT's pop culture art collection in the coming months beyond comics and animation to include rare vintage rock n' roll and movie posters as well as more original fine art from the ever-growing roster of KULT artists.
KULT Studio is an online art gallery specializing in the fine art of comics, animation and iconic pop culture. All images, characters and related indicia © and TM their respective studios and/or owners. For more information visit kultstudio.com. KULT Studio can also be found on facebook and twitter.
###