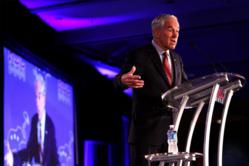 "The momentum behind the movement to audit the Fed - a movement that had zero traction only a few years ago - is a testament to the influence of Congressman Paul."
Northbrook, IL (PRWEB) September 06, 2011
After more than 30 years, Rep. Ron Paul is seeing his positions on the Federal Reserve strongly vindicated by GOP rivals hoping to gain traction with the now-fashionable issue.
Monday's Palmetto Freedom Forum saw former Kansas City Fed Chairman Herman Cain reverse his previous dismissal of a Fed audit, telling host South Carolina Sen. Jim DeMint that he now supports a fundamental restructuring of the Federal Reserve and its mandate for currency stabilization and full employment.
Newt Gingrich's new found passion for a Fed audit was showcased all summer, as he muscled for attention by insisting that Congress look into Fed bailouts of overseas banks, including $26 billion in low-interest loans to Libya. Gingrich and the rest of the GOP hopefuls even embarked on a "Gold Standard Tour" in advance of the Iowa Straw Poll, from which Rep. Paul - who has pushed for a commodity-backed currency since the late 1970s - was conspicuously absent.
Gov. Rick Perry jumped on the Fed bandwagon immediately upon entering the presidential race, dubbing the Fed "treasonous" for its liberal monetary policies. Trouble is, as Texas Tribune Managing Editor Ross Ramsey has noted, "A lot of what Rick Perry's talking about, Ron Paul's been talking about for ages."
What these Audit the Fed latecomers are realizing is the potency of a movement that generated 319 House co-sponsors and widespread public support for Ron Paul's Federal Reserve Transparency Act of 2009. It appears that the establishment has finally come around to recognizing what savvy entrepreneurs and market watchers have long known: A centralized, debt-based currency threatens America's financial security, producing a devalued dollar, price inflation and high unemployment.
"The momentum behind the movement to audit the Fed - a movement that had zero traction only a few years ago - is a testament to the influence of Congressman Paul," explains Tom Woods, Revolution PAC Advisory Board chairman "As a result, more Americans than ever before are aware of an institution that was previously off the table in political discussion. And, a growing number do not like what they see."
Revolution PAC is bolstering Ron Paul's message of free markets, sound currency and constitutional spending with targeted TV advertising campaigns complemented by billboards and radio ads in key primary states. Unlimited donations toward this effort may be accepted by Revolution PAC, which is gearing up for a mass fundraiser on September 19.
In August, Revolution PAC funded two billboards and a full-page Ames Tribune advertisement in support of Rep. Paul at the Iowa Straw Poll.
The Revolution PAC seeks to widen the range of allowable opinion in the public square and to bring to the attention of the American public the neglected alternative of freedom, sound money, self-government, and a non-interventionist foreign policy. This is the answer to the big-government progressives and big-government neoconservatives who have brought our exhausted country to the brink of collapse. Our mission is to support the rare political candidate who defends these great American principles in public life.
###