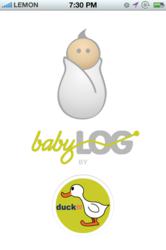 a free baby journal app designed to be a practical companion for the heavily multitasking and highly random environment that is generally recognized as motherhood
Bratislava (PRWEB) April 04, 2011
ducktv -the TV channel dedicated to the toddler demographic- announced today the release of babyLOG, a free baby journal app designed to be a practical companion for the heavily multitasking and highly random environment that is generally recognized as motherhood. With recent studies showing moms to be spearheading the smartphone revolution, ducktv is gearing up to expand its unique brand of content and services to mobile devices. babyLOG lets users track the physical development of their baby from conception through to toddler age, offers week-by-week healh information by WHO, and even lets users compare their baby's data with the averaged data of other users of the application.
babyLOG was specifically designed for the needs of modern moms - it is a baby journal always at hand, allowing users to capture their baby's physical development every step of the way. With recent studies showing moms to be 18% more likely to own a smartphone than average and using their devices 30% of the time for health and wellness related services and 25% for parenting activities, ducktv is rising to the challenge of bringing practical applications built specifically to the needs of these high-tech moms.
babyLOG is optimized for full one-hand operation (we don't expect users to have any more than that at any time) and presents a sophisticated and clean interface. The use of interface graphics and control gestures that mimick universally recognized metaphors -such as scale readouts, or shaking the phone to delete a wrong entry- make it extremely easy to use for anyone.
babyLOG lets users trend the various physical measurements for their baby and lets them compare data with other users of the app.
During pregnancy, babyLOG can be used to track the mother's weight, height, blood pressure and other measurements, and the baby's data from tests and sonograms.
After the baby is born, users can keep logging their baby's measurements, record feeding times and quantities, keep track of which side to breastfeed on next.
"I think our demographic of toddlers and moms have been undeservedly neglected by the mobile application industry, a wrong that we have made our mission to right. babyLOG is but the first of a series of great applications we will be rolling out over the next year for iPhone and Android phones, each dedicated to focus the awesome potential of these smart devices towards the daily saga that is motherhood. " - said ducktv CEO
babyLOG is a free app available for iPhone and Android-based smartphones from April 4, 2011. The smartphone apps synchronize with the babyLOG free webapp available at http://babylog.tv
About us
ducktv - television for absolute beginners
ducktv is a TV channel dedicated to the littlest viewers and their families. With no advertising and no harmful content ducktv offers engaging and educational content for your children 6 months to 36 months of age. Your favorite fairytales recreated with colorful graphics, fun characters, attention grabbing animations and rhythms to entertain and amuse your children. As part of the current rebranding that changed the TV channel's name from bebetv on January 1, 2011, the company is also starting an expansion into the mobile applications market. babyLOG , an interactive baby journal for high-tech moms, is the first in a series of apps dedicated to ducktv's young demographic and is available for iPhone and Android devices.
# # #