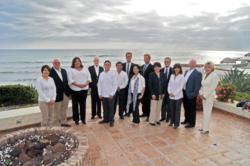 We feel the timing is right to reinvest in our coastal development of Santa Barbara, as retirees start to look at Northern Baja once again as the place to retire.
Los Angeles, CA (PRWEB) July 18, 2011
According to Jose De La Maza of Hermosillo Development, Baja Real Estate Group is bringing a renewed vision and new home prices to the development just as real estate sales start to pick up in the Baja region.
"Over the last three years, we have focused all our efforts on our Mexicali developments, which sold 800 homes last year; we expect to sell 900 this year," said Delamaza. "We feel the timing is right to reinvest in our coastal development of Santa Barbara at Bajamar, as retirees start to look at Northern Baja once again as the place to retire."
Santa Barbara at Bajamar was designed by award-winning Danielian & Associates, named 2006 Architect of the Year by 50+ Builder magazine. The architectural style of the condominium and penthouse residences reflect traditional Santa Barbara influences, combining the grandeur of traditional Spanish missions with the luxury of today's California mansions.
Santa Barbara offers four model homes, sized from 1,710 to 3,060 square feet with 2 and 3 bedrooms and 2 to 3 baths. New prices range from $270,000 to $799,000 for a penthouse. Many of the units feature granite floors, high-quality finishes and spacious floor plans which open out to over-sized balconies with oceanfront views.
"We are very excited about the opportunities coming our way," said Mimi Mills of Baja Real Estate Group.
"Hermosillo plans to offer easy financing to their buyers so that Americans can have a worry-free experience when purchasing a retirement or vacation home here."
According to Mills, real estate agents have been making weekend trips recently to Santa Barbara check out what Baja has to offer.
Agents from Sampson Realty in Del Mar were one of the groups that have recently toured Santa Barbara. Their focus is on real estate sales in the San Diego coastal market but now, with the renewed interested in Mexico, they are planning on expanding their reach into Baja.
"We love coming down to Baja and touring all the wonderful properties," stated Diane Sampson of Sampson Realty, who visited with 20 other agents and prospective buyers in late June. "Our group loved the exclusivity of Santa Barbara and the lifestyle that Baja allows them to live that they wouldn't be able to afford in the United States."
With 27-holes of golf and miles of walking, hiking, biking and jogging trails, Santa Barbara offers all the amenities that one would expect at a first-class resort.
"Santa Barbra has everything prospective buyers are looking for, including concierge services to take care of the residents needs such as spa reservations, house cleaning to bill paying," stated Sampson, a 21-year veteran of the real estate industry.
As confidence returns to the Ensenada real estate market, Santa Barbara isn't the only development seeing increased interest from real estate agents as well as prospective buyers.
"Home sales are up as visitors are coming back to the Baja coastline" says Fernanda Escobosa, Pacifica project manager. "According to Expedia, travel to Mexico has increased 25 percent in the last 12 months. Because of this positive news, developers are taking a renewed interest in investing funds in Baja."
Pacifica at Ensenada Bay recently broke ground on a new residential project south of Bajamar.
Seasoned Los Angeles-based Realtor Hector Aguilar has a positive outlook on the real estate market in Baja, especially with new developments attracting buyers to the area.
"The real estate market seems to be in a forward progression. With so many great priced properties available on the Riviera Baja coast, it will certainly attract future baby boomers and other consumers looking to invest in reasonably priced ocean-front living," Aguilar said.
Many tourists visit Ensenada every August for "Fiestas de la Vendimia," or the Ensenada Wine Festival, a huge celebration of Baja wineries. According to Mills from Baja Real Estate Group, another attraction drawing curious Americans to Baja is Punta Brava, Tiger Woods' 6,835-yard, 17-tee oceanfront golf course. Developers recently announced that this massive community will break ground this year.
Bajamar is 15 minutes south of Rosarito and 35 minutes north of Ensenada.
"Santa Barbara allows homeowners to live between two of the most celebrated Baja California cities and also enjoy the tight-knit community of American expatriates that has grown over the past 30 years at Bajamar," Mills continued. "Bajamar has been able to sustain a vibrant community feeling and active lifestyle that retirees and second homeowners look for in a well-planned community."
Contact Baja Real Estate group at http://www.bajarealestategroup.net/ for more information.
###