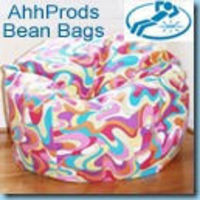 One of our bean bag chairs will guest star as part of a Late Night with Jimmy Fallon skit!
Fairfax, VA (PRWEB) February 28, 2011
"It's a great day when we have celebrity bottoms sitting on us!" Why in the world would that be a good thing? Because these celebrity bottoms are sitting on AhhProds.com Bean Bag Chairs. Ha, ha, you say, but they say Ahh! as celebrity purchases help the business and brand of AHH! Products, Inc. Being in a very competitive market place can make it difficult sometimes to stand out among the other online bean bag chair websites. But, AhhProds has appreciated the recognition that their bean bag chairs have received over the years, along with the nice compliments they say they get on their customer service. "That's why we think we keep getting on TV shows like Late Night, Saturday Night Live and ...", says owner and CEO Jade Nguyen. "We know that putting our customers and their needs first is what has them coming back to us. We always make ourselves available for immediate deliveries or special requests. And we have had some interesting requests for our products!"
Jade explained that, this year, they will be seen on Late Night with Jimmy Fallon. One of their bean bag chairs will guest star as part of one of the TV show's skits. She went on to say that last year, it was the second time that their special bean bag chair refill was the star. This time for a music video - last time was for a popular TV show, Lost. Apparently the lighting can be set to make the bb-sized polystyrene pellets look amazing on camera! So, they are not just great as flexible, comfortable, movable seating but they have some creative aspects to their product parts too! Not only is the refill special but the bean bag chair covers can be changed out at any time for additional creativity and color changes in home or office decorating - oh, and they are washable too.
Even though they love their celebrity status, they get the most satisfaction when their products are used to help special needs kids. AhhProds bean bag chairs have been successfully used to help autistic kids and those with ADD or ADHD. Seems that bean bag chairs are perfect for kids who cannot sit still in rigid, straight back chairs. They also provide a feeling of being cuddled and safe. They can also be used to help certain medical conditions. A bean bag chair can be used to position a broken foot or leg very nicely. The cats and dogs love them too.
So, when you see this special guest later this week on Late Night with Jimmy Fallon think Ahh! not only with celebrity status but also for comfort, creativity, useful design and general fun. Since bean bag chairs were made popular back in the 1960s, some don't realize how fashionable and effective they have become for present use. Maybe there will be one, or maybe two, in your home, office, or TV and movie set soon too!
About AHH! Products Inc.
AHH! Products is one of the most established and trusted bean bag chair furniture companies in the world. Online since 1998, http://www.AhhProds.com offers the original bean bag chairs with washable covers and water-repel microfiber liners in hundreds of styles. They are renowned for their high level of quality and customer service.
Called "Ahh Spots", as in "ahhhh, that spot's comfortable", AHH! bean bags are both practical and beautiful. Shoppers can find denim, fleece, velvet, faux fur, microsuede, and many other home decor styles that suit kids and adults. Ahh Spots can be found in thousands of homes and businesses worldwide. Thanks to AHH! Products, bean bag furniture has been raised to a new and innovative level.
###