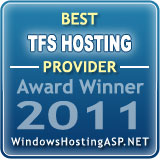 We are excited that our hosted TFS services are being recognized and we hope to have even more developers try it out and experience source control with TFS with our 30 days free offer.
Pasadena, CA (PRWEB) July 12, 2011
Global TFS hosting leader, DiscountASP.NET announces receiving the title of "Best TFS Hosting Provider for 2011" by hosting directory, WindowsHostingASP.Net.
"The WindowsHostingASP.Net Awards are given to the Best Hosting Providers in the industry, who have proven themselves by delivering high quality services and the latest technologies to their customers." said Svetlin Boychev CEO and Founder of WindowsHostingASP.Net.
"We are proud to learn that we won the best TFS hosting award which is a new category for WindowsHostingASP." said Takeshi Eto, VP Marketing and Business Development at DiscountASP.NET. "We are excited that our hosted TFS services are being recognized and we hope to have even more developers try it out and experience source control with TFS with our 30 days free offer."
"We are proud to learn that we won the best TFS hosting award which is a new category for WindowsHostingASP." said Takeshi Eto, VP Marketing and Business Development at DiscountASP.NET. "We are excited that our hosted TFS services are being recognized and we hope to have even more developers try it out and experience source control with TFS with our 30 days free offer."
About DiscountASP.NET
DiscountASP.NET is an innovative leader in hosting solutions for ASP.NET developers, focused on providing the best value in ASP.NET web hosting and Team Foundation Server hosting. A Microsoft Partner with the Gold Hosting Competency, DiscountASP.NET recently launched TFS build server, hosted Urban Turtle scrum tools, and TFS hosting in the UK. As a leader in cutting-edge ASP.NET web hosting, DiscountASP.NET supports the latest Microsoft web stack including support for ASP.NET 4, MVC, Razor View Engine, SQL CE4 and WebMatrix. Through strong word-of-mouth and their commitment to .NET developers, DiscountASP.NET has become the choice for affordable enterprise-class ASP.NET web hosting and TFS hosting. For more information, visit http://www.DiscountASP.NET
###