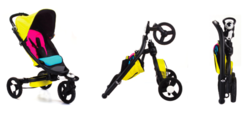 New York, NY (PRWEB) November 08, 2011
bloom®, the globally coveted baby furniture and gear brand renowned for their iconic collections including the fresco™, coco™, luxo™ and alma™, announces the launch of the award winning bloom zen™ all-terrain stroller & bloom yoga™ newborn nest.
Developed in collaboration with the French manufacturer BABYZEN™, bloom zen™ & bloom yoga™ delivers the world's slimmest folding, full-size all-terrain stroller and revolutionary newborn travel system.
Zen's distinct european design language is matched only by its engineering excellence. groundbreaking engineering brings cutting-edge folding, lighting and wheeling features, while the interchangeable and reversible seat cushions create personal zen for the child. simple to move and easy to store, bloom zen™ boasts the most unique retracting compact-fold in the marketplace: with a flick of the wrist, it folds flat to an ultra-slim 25cm/9.8".
Freestanding when flat-folded, zen is designed for multi-directional wheeling without the need to lift (much like a rollable suitcase), and can be easily stashed in a closet, car trunk or other tight spaces.
Elevating road safety to a new level, bloom's zen™ introduces the first-ever fully integrated solar lighting system. located at the front of the stroller frame, a safety light can be activated to shine either full-beam or flashing hazard lights, with an auto switch-off after two minutes. the light is powered by three AAA batteries, rechargable by environmentally sound solar panels. to ensure a smooth ride, the puncture-proof wheels have front and rear shock absorbers with the front wheel also boasting a patented anti-dribble mechanism.
The bloom yoga™ newborn nest is a 3-in-1 mobile travel bed, bassinet and portable bouncer that also functions as a parent-facing newborn cradle when placed upon the bloom zen™. complete with two recline positions and a high quality mattress for extra support, yoga™ provides snug and luxurious comfort on-the-go. as the slimmest travel bed solution in the industry, the lightweight newborn nest's 10lb frame folds completely flat to less than 15cm/6" for easy carry and smart, space-saving storage. yoga™ also meets tough IATA size restrictions for in-flight usage.
To celebrate this melding of fashion with function, bloom has created two design inspired and superlative color stories for launch: cmyk, with interchangeable & reversible cyan & magenta cushions/mattress pads and the streetwise monochrome, with interchangeable & reversible lunar silver & midnight black cushions/mattress pads. the three-section canopy is treated with a 40+uv coating to provide enhanced weather protection, and all materials are breathable, machine washable and stainresistant.
For the ultimate in modern convenience and luxury, bloom® also introduces a line of mobile accessories, including a pvc-free rain cover, a sturdy cup holder, a uv mosquito net, a luxurious foot muff and reversible zen seat cushions & yoga mattresses in additional vibrant colors. car seat adaptors for cybex aton, maxi cosi and graco snugride car seats are also available.
bloom zen™ & bloom yoga™ will be sold exclusively in The Americas from early 2012.
Available now for pre-registration at bloombaby.com/pre-register the bloom zen™ all-terrain stroller will retail for $799 and the bloom yoga™ newborn nest will retail for $250. available in the USA in early 2012 at giggle and selected bloom specialty retailers nationwide.
For more information or to view the complete bloom product line, please visit bloombaby.com
About
founded by four dads in 2007, bloom's product collections of innovative gear and furniture fuse fashion and function to reflect modern living, safety & environmental sustainability. bloom is sold throughout north america at leading specialty boutiques and baby department stores as well as globally in over 60 countries spanning the uk, europe, latin america, middle east, africa and asia-pacific.
###