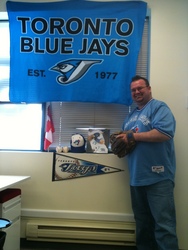 I'm excited for the Jays this season. I have high hopes that they will win the pennant.
(PRWEB) April 1, 2011
Spring fever is in the air as Toronto Blue Jays fans are excited about today's Blue Jays 2011 home opener against the Minnesota Twins at the Rogers Centre.
With tickets now officially sold out to this highly anticipated game, Blue Jays fans are taking their team spirit to a whole new level. Challenging banter and team pride are in the air today. Baseball fans are pleased to see Toronto in full support and welcoming spring with a special season home opener to one of Canada's all time favourite games.
Blue Jays fans will be watching 25-year-old catcher J.P. Arencibia closely tonight. Drafted by the Blue Jays in 2007, many believe that his growth will be a cornerstone to improving upon last season's 85-77 record.
The Rogers Centre is expected to be a sea of blue tonight, and Blue Jays fans are already showing their pride around the office.
A local Ajax company, Search Engine People Inc., is holding a "Who's The Biggest Blue Jays Fan" contest today around the office. Employees are encouraged to decorate their work areas with Toronto Blue Jays paraphernalia, and contestants are taking the challenge very seriously.
Click here for more photos: Blue Jays Home Opener Contest
Baseball fans who are not planning on attending can turn on their TV or switch on the radio to get involved.
###