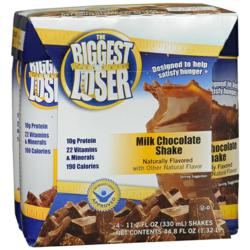 "Boomerang provides a full circle solution rarely found in retail," said Rich Simon, Senior Partner at Boomerang Brands.
Chicago, IL (PRWEB) June 07, 2011
NBCUniversal Television Consumer Products Group, Reveille LLC, and Walgreens have teamed up to launch an exclusive line of "The Biggest Loser" branded Meal Bars and Shakes for all of the more than 7,700 Walgreens locations. Behind the scenes, Boomerang Brands was the driving force for the project. "Everyone set out to change the category," said Rich Simon, senior partner at Boomerang. "Walgreens, NBC, and Reveille were tremendous partners to work with on this program. All sides were focused on developing a better-for-you product line at a great price."
Boomerang Brands, a boutique Brand Management Company specializing in maximizing captive brand opportunities, worked diligently on every stage of the program with Reveille, NBC and Walgreens. "We truly operate like a small CPG Company which allows us to remain flexible to meet our clients' needs while providing multiple services all under one roof," said Sean McGirr, senior partner at Boomerang. The company prides itself on multi functional teams and hands on approach from ideation thru order fulfillment.
"The Biggest Loser" products will change the diet category forever. More and more retailers demand cleaner ingredient decks on the products they offer. Boomerang saw this as an opportunity not a hurdle. What ensued was six months of R&D to make the best products in the category. "'The Biggest Loser' nutrition experts insisted on natural ingredients for their label, we were thrilled to make it happen at a cost effective price for Walgreens," said Jim Daly, Senior Partner at Boomerang. Along with being an excellent source of protein and dietary fiber, both the Meal Bars and Shakes contain no preservatives, artificial flavors or added colors.
"The products are made primarily of simple, natural ingredients making them a great addition to any weight loss plan -- offering people a healthy alternative to fast food while on the go," said Kim Niemi, senior vice president, NBCUniversal Television Consumer Products Group."We created these outstanding Biggest Loser protein shakes and bars specifically for people who want to harness the power of natural foods and ingredients to maintain a healthy body weight, stay strong and live life to the fullest," said Dr. Michael Dansinger, nutritional expert on "The Biggest Loser." "We know that people will find them to be a satisfying and practical way to help them meet their health goals."
"The Biggest Loser" products were first unveiled on April 6 in New York City at a launch event for the Walk with Walgreens program (http://www.walgreens.com/walk). Boomerang brought former Biggest Loser contestants Tara Costa and Erik Chopin to join the festivities. They added a great deal of excitement to the event. "The Biggest Loser" products were a huge success with the crowd, who has been looking for great tasting and nutritious meal bars and shakes.
With the successful launch of The Biggest Loser Meal Bars and Shakes Program, Boomerang is working to expand its distinctive platform for brand opportunity generation. "We provide a solution rarely found in retail." said Rich Simon. "Instead of operating as a piece of the puzzle, we are the solution provider for each stage of the process - all under one roof for the lifecycle of the product line."
About Boomerang Brands
Boomerang Brands is a CPG brand management company specializing in managing captive brand programs for leading national accounts. The company operates as a brand management arm on exclusive high profile licensed or captive brand product lines. They specialize in opportunity generation, supply-side sourcing, marketing and brand management support. By partnering with Boomerang, brand owners, be it retailers, manufacturers or licensors receive a full circle solution for ideation, execution, growth and management. Boomerang is headquartered in Chicago, IL. For more information on Boomerang Brands please visit http://www.boomerangbrand.com.
About Walgreens
Walgreens (http://www.walgreens.com) is the nation's largest drugstore chain with fiscal 2010 sales of $67 billion. The company operates 7,709 drugstores in all 50 states, the District of Columbia and Puerto Rico. Each day, Walgreens provides nearly 6 million customers the most convenient, multichannel access to consumer goods and services and trusted, cost-effective pharmacy, health and wellness services and advice in communities across America. Walgreens scope of pharmacy services includes retail, specialty, infusion, medical facility and mail service, along with respiratory services. These services improve health outcomes and lower costs for payers including employers, managed care organizations, health systems, pharmacy benefit managers and the public sector. Take Care Health Systems is a Walgreens subsidiary that is the largest and most comprehensive manager of worksite health centers and in-store convenient care clinics, with more than 700 locations throughout the country.
About "The Biggest Loser"
"The Biggest Loser" airs on NBC Tuesdays at 8 p.m. (ET). The first reality series where everybody "loses," "The Biggest Loser" challenges and encourages overweight contestants to shed pounds in a safe and recommended manner through comprehensive diet and exercise as they compete for a grand prize of $250,000. Hosted by Alison Sweeney, the series provides the contestants with challenges, temptations, weigh-ins and eliminations until the final contestant remains to claim the title of "The Biggest Loser." Each team works out under the supervision of professional trainers Jillian Michaels and Bob Harper. "The Biggest Loser" is a production of Reveille LLC, 25/7 Productions and 3 Ball Productions.
Beyond the U.S. where more than 100 episodes of the show have aired, "The Biggest Loser" has become a worldwide hit appearing in over 90 countries and produced in 28 countries. Since its debut in 2004, "The Biggest Loser" has grown to become a standalone health and lifestyle brand by developing tools and products inspired by the show and approved by its doctors and experts. Anchored by the online, subscription-based extension of the show, Biggestloserclub.com, from Rodale, "The Biggest Loser" consumer products program has generated over $150 million in spending, with presence at more than 25,000 major retailers to date. The program currently features a wide variety of health and fitness products including The Biggest Loser video game for Wii and Nintendo DS & DSi, The Biggest Loser Resort at Fitness Ridge, which is a full-service, destination health & fitness spa, The Biggest Loser Meal Plan, a New York Times best-selling books series, a best-selling fitness DVD series, a line of appliances, fitness equipment, protein supplements and several other health and lifestyle based products. "The Biggest Loser" was recognized as a top brand of the year in Advertising Age's 2008 Marketing 50. Check out http://www.biggestloser.com for more information.
About NBCUniversal Television Consumer Products Group
NBCUniversal is a leader in providing entertainment programming to the domestic and international marketplaces. NBCUniversal Television Consumer Products Group manages all global ancillary television business endeavors for the NBCUniversal Television Group, including third-party home entertainment distribution, consumer products, musical soundtracks, special markets projects and the NBCUniversal Online Store. For the latest product updates and an overview of the properties managed by the group, visit the NBCUniversal Television Consumer Products portal at http://nbcuconsumerproducts.com.
About Reveille
Reveille is part of the Shine Group, one of the world's foremost multinational entertainment and drama companies. A leading independent studio focused on exploiting worldwide intellectual property rights in scripted and unscripted television and digital entertainment, Reveille is also a world leader in creating integrated marketing opportunities for advertisers. Reveille is known for popular and award-winning hit series including "Master Chef," "The Biggest Loser," "The Office," "The Buried Life," "Ugly Betty," The Tudors," "Tabitha's Salon Takeover," "Shear Genius," and "Parental Control." Reveille has partnerships with both Microsoft and Yahoo! to develop original online series for brands. Web series include "Fit to Boom" for Subway, "It's Everybody's Business with Jack and Suzy Welch" for Microsoft, "Who Knew?" for Toyota and "Real Makeover" for Wal-Mart. Recent television series include Paula Abdul's highly anticipated return to television with "Live to Dance" on CBS as well as Lifetime Television's "One Born Every Minute," chronicling the compelling daily stories of a bustling maternity ward, which recently premiered. Through its distribution arm, Shine International, Reveille distributes its extensive library of programming to more than 150 countries.
###