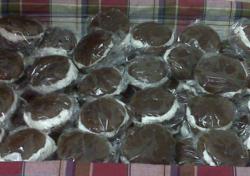 Shipshewana, Indiana (PRWEB) November 12, 2011
Brandenberry Furniture, a custom furniture specialty store, is proud to be part of Shipshewana's annual "Chocolate Day" on November 19th, in which a group of sponsoring merchants will host a "Chocolate Walk" where for a nominal fee, one can purchase a special Christmas box at Aunt Millies' Candy and Nuts, then collect free chocolate sweets at over 20 stores in town. In addition to offering sweets, many local businesses are offering special sales. Chocolate Day has been a much-anticipated tradition in Shipshewana for years and continues to grow in popularity.
Shipshewana is located in the heart of Amish country in Northern Indiana and is a popular destination for craft and gift shoppers, furniture-lovers, flea market shoppers and those curious about the "simple folk" and the Amish way of life. The summer season sees a steady stream of foot-traffic through the many wood furniture and craft shops, bakeries and meat shops and the 100 acre flea market.
The Amish continue to live a life of simplicity in Shipshewana, as they have for over two centuries, often living on small homesteads and practicing a trade. Horse-and-buggies are a common sight throughout Shipshewana, as these remain the means of travel for most Amish. Over the last three decades, more and more Amish have begun offering their quality craftsmanship and culinary skills to visitors.
Chocolate Day is one of many special events in Shiphewana during the holiday season, including the Light Parade on November 12th, the Christmas Tree Walk on December 3rd-30th, Kid's Day on December 10th, and the Shipshewana Ice Festival on December 28th-30th.
About Brandenberry Amish Furniture:
The Weaver family established their first Amish furniture store in 1989 in Shipshewana, Indiana, before opening Brandenberry Amish Furniture in 2008. They maintain two family-owned and operated businesses offering a full line of solid wood Furniture at affordable prices. As part of their client services, Brandenberry Amish Furniture provides furniture design consultation services, exclusive furniture, custom furniture options, furniture quotes, layaway options and various delivery alternatives for residences in the United States from their furniture showroom in Indiana's Amish Country.
###