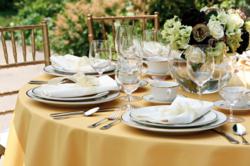 Inspiring Caterers every day with over 8,000 catering products.
Cincinnati, OH (PRWEB) September 09, 2011
The website currently offers thousands of catering products, with the number of available items expected to rapidly rise over the next 6 months. Hundreds of new products are being added to the site each day. CateringPlanet.com boasts a wide variety of products and supplies, from everyday tools of the trade to unique display accents, props, and décor. An experienced team of industry-savvy buyers has been assigned to seek out the basics as well as the latest in food and entertainment trends from around the world.
Cateringplanet.com promises highly competitive pricing, with most product orders staged to ship around the world within 24 hours of customers' online orders. Shipping promises to be economical as well as fast, with pricing as low as $10.00 for orders over $99.00. cateringplanet.com utilizes its well-stocked warehouse operation to help ensure readily available inventory.
The new site is designed to provide uniquely user-friendly navigation and has been specifically organized to accommodate customers' needs for efficiency and reliability. Accurate, descriptive content and detailed product photography are features dedicated to enhance the user experience.
Attentive, easy-to-reach customer service is a key Company goal. 100% satisfaction is guaranteed.
###