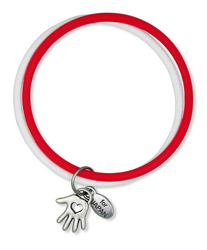 Scottsdale, AZ (PRWEB) March 30, 2011
Wear a Charm, Spread the Word, and Make a Difference. Charity Charms is lending a hand to support the disaster relief in Japan by donating 100 percent of net proceeds from the sale of its "Helping Hand for Japan" GivingBands bracelet to the U.S.-Japan Council Earthquake Relief Fund.
The Helping Hand for Japan bracelet was specially created to raise funds and spread awareness for the Triple Disaster in Japan. The dual red and white eco-friendly silicone bands reflect the colors of the Japanese flag. Two recycled pewter charms are attached: A HELPING HAND, and an oval that says "for JAPAN."
"Wearing the Japan GivingBands bracelet is a unifying demonstration that we are always working to spread awareness about the disaster," said Kay McDonald, owner of Charity Charms. "Charms create opportunities for people to share their personal stories about the charities they support and in this case, we want to keep people talking so the issue is not forgotten."
McDonald, in tandem with her cousin Debbie Howard who lives in Japan, hopes to raise $100,000 to directly support the immediate relief and the long-term rebuilding in Japan. Individuals can purchase the bracelets through the end of June online. The bracelets, which are made in America and assembled by adults with disabilities, retail for $24.50 each which includes shipping and handling.
Groups and organizations also can raise funds for other charities such as the American Red Cross, World Vision, or their charity of choice with a bulk purchase of 100 pieces or more. The symbols and message on the Helping Hand for Japan bracelet are universal.
Charity Charms started seven years ago with the idea of helping non-profit organizations raise funds and spread awareness through custom designed charms. The Arizona business now boasts a nationwide reach with more than 250 clients on its roster, including Childhelp, American Diabetes, and Best Friends Animal Society.
For more information on Charity Charms and the organizations it supports, please call (800) 615-3120 or visit http://www.charitycharms.com. Additional photos are available upon request.
About Charity Charms:
Founded in 2004, Charity Charms is the result of diligence and passion. After 20 years of experience in the jewelry business, owner Kay McDonald decided to develop an innovative concept which incorporated her background and philanthropic desire. Since its conception, Charity Charms has grown into a company which brings about awareness and provides a funding source for more than 250 charities worldwide. Charity Charms' mission is to create beautiful awareness jewelry for charities that will benefit their cause. Charity Charms are created from a charity's logo, and when worn, allow the wearer to show their passion, and talk about charities that are near and dear to their heart.
###