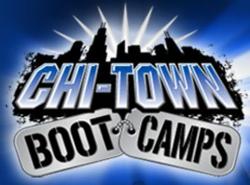 Chicago, IL (PRWEB) November 19, 2011
Many Chicago residents want to lose weight or improve their overall fitness levels, but they aren't sure how or where to get started. This holiday season, loved ones can give the gift of a Chicago fitness trainer to show their thoughtfulness and support. For just $1, recipients of the Chi-Town Boot Camps promotion will get: a week of free boot camp sessions; a one-on-one consultation with a nutritionist that includes monthly meal plan creation, shopping lists and counseling; fitness testing including weighing, measuring BMI, and testing for flexibility and other measures of overall physical condition; and a personalized workout schedule that will help people meet their goals.
Chi-Town Boot Camps are located on Arlington Heights Road in Arlington Heights, on ½ Chicago Ave in Evanston, on West Belmont Ave and West Washington Boulevard in Chicago, and on East State Parkway in Schaumburg, Illinois. Every Chicago fitness trainer brings college degrees and national certification to the table, so residents can be comfortable working with the knowledgeable staff.
Any fitness trainer in Chicago will admit that their boot camp classes have been filling up in recent years. "People gravitate toward Chi-Town Boot Camps for different reasons," explains owner Craig Kastning. "Some people like the sense of camaraderie they get from working out alongside other like-minded people. Others enjoy the personal attention they get from instructors who are very positive and very motivational. Others still are in it for a real kick-butt workout that leaves them feeling healthier and happier afterwards." He adds that the end results ultimately drive people to recommend boot camps to family and friends.
In five months, boot camp participant John Forrest reached his goal of losing 30 pounds of fat and gaining 10 pounds of muscle. Jennifer Widger lost 45 pounds and six dress sizes during her time in the program. After mothering four boys, Tobi Davidson was glad she took the time to take care of herself by losing 42 pounds in 12 weeks. Brian Pinon is feeling more energetic than ever after shedding 55 pounds with his Chicago fitness trainer. Best of all, Chi-Town Boot Camps avoids fads, supplements and severe restrictions. Instead, they offer a tested, tried and true method of balancing good nutrition with regular aerobics and strength training.
According to the "2012 New Year's Resolutions Survey," the most commonly cited New Year's resolutions for this year include: to become more physically fit, to improve financial condition, to improve health, and to lose weight. Gift givers can help their family and friends achieve most of those goals by giving the thoughtful gift of a Chicago personal trainer this season. Gift purchasers may even decide to take advantage of this generous offer themselves in a show of solidarity.
About The Company: Chi Town Boot Camps is a Chicago boot camp that is committed to helping people reach their ideal health and fitness goals. The company prides itself on having professional and experienced personal trainers who are committed and genuinely concerned with clients and the achievements of their objectives. Each individual is different, so the exercise programs are customized based on individual fitness goals, health history and current health condition. Chi Town's fitness boot camp programs are unique and exclusive and are consistently reviewed to maintain the highest possible standards. All programs come with a 100% money-back guarantee. Please visit http://www.chitownbootcamps.com for more information.
###