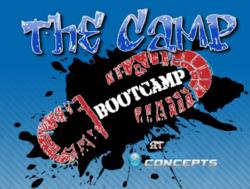 Chino Hills, CA (PRWEB) December 06, 2011
Alejandra Font is a Chino Hills Boot Camp expert at The Camp Boot Camp. "The holiday season is a time for giving to those we love most, and what better way to offer our love and support than with a thoughtful fitness-themed gift?" she asks. Here are some items she has on her list for friends and family members.

FitBit Ultra: This neat little gadget collects all sorts of data, including: how many stairs a person climbs, how many hours a person is sleeping, how many miles have been traveled, and how many calories have been burned. For $100, this gadget is a must for people who like to track their workouts.
Fitness Ball: These giant bouncy balls may take up a bit of closet space, but they are invaluable when it comes to core strengthening exercises. People in The Camp's Chino Hills Gym may use them for sit-ups, squat and reach, bridges, planking, side exercises or reverse crunches.
Bosu Ball: The Bosu helps people improve their balance and makes exercises a bit more challenging. They work great for step-cardio classes too! Chino Hills fitness trainers at The Camp Boot Camp use these for standing hip abduction, bicep curl lunges, lateral trunk flexions, extended crunch kicks, standing row lunges, cross-body tricep extensions and even squats.
WiThings Wi-Fi Scale: Everyone who is serious about weight loss and weight management needs to have a scale in the home. This super high-tech scale doesn't come cheap, but it makes such a neat gift because people can instantly stream their weight log to their computer, social media accounts, and apps like FitOrbit, Daily Burn, or dozens of others. Such scale will be best if set by best Chino Hills personal trainer.
Belkin Fast Fit iPhone Case: Nothing is worse than dropping an iPhone mid-workout! The clear cover keeps sweat and moisture away from the screen, while the cable organizer prevents terrible tangles. This $25 gift makes a great stocking stuffer.
"Last but certainly not least, I would like to invite newcomers to stop in for a free health consultation and try a full week of our fun boot camp classes," Alejandra Font adds. "We will find out what sort of foods you like and create a nutritious monthly meal plan for you to follow and we'll schedule you for cardio / strength training / conditioning boot camp group sessions three times a week where you'll make new friends, learn new and effective techniques for weight loss, and get all the support and motivation you need to be successfully in reaching your goals."
About The Company: Fitness Concepts was founded in 1999 as a personal training company consisting of many talented and caring individual trainers dedicated to get their prospective clients the maximum results through proper training, nutrition and supplementation. We at Fitness Concepts believe in client education and long term client health and success, not unhealthy quick fix fad diets and programs that could be hazardous to our clients. For more information, please visit http://www.thecampbootcamp.com.
Contact Information:
Fit Concepts Inc.
14682 Central Avenue
Chino, CA 91710
(909) 962-7745.
http://www.thecampbootcamp.com
###