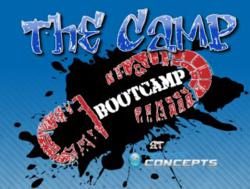 Chino, CA (PRWEB) December 07, 2011
The holiday season can really take its toll on a person's mind and body. Between hectic Christmas shopping, party planning, overeating, heart burn, excessive alcohol consumption, financial stress, travel adjustments, and fatigue, a person can be left an absolute wreck! Chino Hills personal trainer Alejandra Font invites people to contact The Camp Boot Camp to meet with her or one of her associates to put a process in place to take care of oneself before it's too late.
Here are some of the health benefits of working with a Chino Hills personal trainer:

Lose Weight: Scheduling regular workouts with a Chino Hills Weight Loss Expert helps people make time for exercise, and also pushes them to work harder while they're at the gym. It's amazing how much focus people have when someone is watching or invested in their success.
Lower Cholesterol: Individuals who work out regularly will see results in their bloodwork. Some boot camp participants have reported going from a total cholesterol level of 226 down to 113 and triglyceride level of 185 to 111. This, in turn, helps lower the risk of heart disease.
Improve Mood: Cortisol levels can be high during shopping season, but studies show that exercise effectively lowers cortisol levels, while boosting the body's serotonin "feel good" chemical.
Boost Energy: It may seem strange that physical exertion can make a person less fatigued, but that's precisely what studies show. The energy increase comes from the cell's mitochondria. When a person engages in aerobic activity, the body produces more mitochondria to meet the increased energy demands, and this causes more energy to become available to the body even after a person has finished exercising.
Quicken Metabolism: Studies show that the interval training style of workout like The Camp Boot Camp recommends can actually rev up the metabolism for up to 48 hours after a group session. When people burn more calories at rest, they also lose more weight.
A Chino Hills personal trainer ensures that all clients are able to meet their personal fitness goals. Some people want to begin a regular exercise routine to manage a medical condition, prevent disease or add to their longevity. Other people want more energy, more control over cravings, or to lose a few pounds. Some people may be interested in bodybuilding or simply toning up any "cushy" areas. The Chino Hills Boot Camp can help people with any interest level, all starting with a free consultation.
About The Company: Fitness Concepts was founded in 1999 as a personal training company consisting of many talented and caring individual trainers dedicated to get their prospective clients the maximum results through proper training, nutrition and supplementation. We at Fitness Concepts believe in client education and long term client health and success, not unhealthy quick fix fad diets and programs that could be hazardous to our clients. For more information, please visit http://www.thecampbootcamp.com.
Contact Information:
Fit Concepts Inc.
14682 Central Avenue
Chino, CA 91710
(909) 962-7745.
http://www.thecampbootcamp.com
###