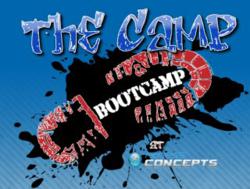 Chino, CA (PRWEB) December 08, 2011
Alejandra Font, a Chino Hills personal trainer with The Camp Boot Camp, shares the following tips for surviving the holidays and maintaining optimal fitness levels.

Make physical activity part of daily life. Every other day, schedule a good 60 minutes of cardio and strength training, but also make good use of days off. Walking the dog, doing 30 minutes of yoga, spending time doing household chores like raking and laundry, or riding a bicycle will prevent sluggishness or a lazy attitude from developing.
Many people try to restrict themselves from having any of the foods or drinks that they love for fear that they'll go hog wild – which they eventually do! Enjoying a little indulgence within reason is a good thing. Cut that sliver of grandma's pumpkin pie, but do a little cardio to offset the extra calories. Got a taste for chocolate? Choose a cup of hot cocoa, rather than black forest cake.
Another common mistake people make is skipping breakfast and lunch if they know they'll be eating a big Christmas Day dinner or drinking loads of alcohol on New Year's Eve. The latter is alcohol poisoning waiting to happen… and the former is fat storage in-the-making. The best approach is to eat a balanced, protein and fiber-rich breakfast that will keep the body at an even keel until it is time to eat.
Much socialization tends to occur around the buffet tables of parties. However, it's much better to be stationed away from this tempting area. Out of sight, out of mind!
Salty foods and alcohol really dehydrate people and cause the body to function abnormally. This is one major reason why many people feel bloated, spacey and sluggish the day after a holiday. Drinking a glass of water in between other drinks or snacks can not only help people feel fuller faster, but can also keep the body hydrated and feeling good.
When asked to bring a dish, make it a healthy one. Angel food cake with strawberries, whole grain bread, baked sweet potatoes, wild rice stuffing, or a cranberry mold can be a great addition to the meal that people don't have to feel so guilty about eating.
Lastly, consider signing up with a Chino Hills Boot Camp to get all the tools necessary for a fruitful weight loss / weight management journey. The Camp Boot Camp in Chino Hills is offering a free personal consultation and week of boot camp classes to all interested parties this December and January.
About The Company: Fitness Concepts was founded in 1999 as a personal training company consisting of many talented and caring individual trainers dedicated to get their prospective clients the maximum results through proper training, nutrition and supplementation. We at Fitness Concepts believe in client education and long term client health and success, not unhealthy quick fix fad diets and programs that could be hazardous to our clients. For more information, please visit http://www.thecampbootcamp.com.
Contact Information:
Fit Concepts Inc.
14682 Central Avenue
Chino, CA 91710
(909) 962-7745.
http://www.thecampbootcamp.com
###