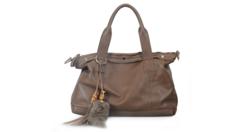 Made from genuine leather, each handbag is crafted with durability, functionality and beauty to bring each piece to life
Pasadena, CA (PRWEB) October 12, 2011
Cuore&Pelle (http://www.cuoreandpelle.com), Italian for "Heart" and "Leather," respectively, is a designer handbag studio based in Pasadena, Calif. The collection, which launched in February 2010 with only private trunk show sales in the Los Angeles area, finally becomes available to consumers nationwide this fall with an assortment of beautiful leather bags and accessories. Each item, made from genuine leather, is finely crafted with durability, functionality and beauty. All leathers are carefully selected for their unique textures and colors, bringing each piece to life.
The initial collection from the brand consists of satchels, totes, shoulder bags, cross body mini bags, wallets and wristlets in various leathers including embossed croc and python, quilted, oiled and smooth leathers in an array of colors. Head designer Maria Park, names each design in her collection after a strong and influential woman in her life. Cuore&Pelle plans to expand the collection in early 2012 to include other accessories such as belts, key chains, laptop cases and men's wallets.
With retail prices ranging from $79-$600, Cuore&Pelle will be sold at boutiques nationwide. Immediately, customers can purchase the bags at http://cuoreandpelle.com. Cuore&Pelle is certain to be the must-have bag this holiday season.
For more information on Cuore&Pelle, please visit http://cuoreandpelle.com/about
For press inquiries or for samples please contact: Melissa Rappaport at RappAround PR: 310.409.9947/Melissa(at)RappAround(dot)com
###