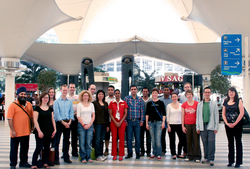 (PRWeb UK) February 1, 2011
Yesterday saw the arrival of 40 leaders from the UK and India for the start of a new leadership initiative, Dishaa, where the participants will tackle an innovation-rich challenge topic around broad systemic change.
From 30 January to 3 February 2011, the 40 talents from the private, public and not-for-profit sector in the UK and India will participate in the UK-India leadership development initiative, which will enhance bilateral relations between the two countries. Participants in the first Dishaa initiative will develop models for innovation under the guidance of Martin Kalungu-Banda in Pune, India. The individuals in question have been set the challenge by Dr. Devi Shetty to determine what systemic change would be required to make heart surgery at $1,000 USD a possibility.
Kingfisher Airlines are a sponsor of the Dishaa initiative and have fully funded return flights for all UK participants to attend the event. As an airline, they are committed to innovation and have won numerous awards for their approach to providing their guests with an unparalleled travel experience.
Commenting on the partnership, Prakash Mirpuri, Vice President, Corporate Communication, Kingfisher Airlines Limited said, "As a world-class airline, we are committed to supporting partners who offer platforms for the next generation of global leaders who will shape the future of the world. We are delighted to partner Dishaa, an initiative that will foster stronger bilateral ties between the United Kingdom and India."
Participants will also hear from British Prime Minister, David Cameron, on why he has chosen to be a patron of Dishaa (via video) and will present their final innovation models to a panel of expert policy makers and specialists on Thursday 3 February, later to be published as a report by Common Purpose.
Although healthcare is the theme for the UK-India leadership development initiative, broad systemic change and the process of initiating this is the key learning objective. Building technologies, sustainable and carbon-neutral power sources, design, wider social and infrastructure issues including housing and production will be just some of the factors participants will consider when developing the innovation models and prototypes required.
Potential features and interviews:
We are offering a select number of media the opportunity to shadow participants in Dishaa as they undertake their exploration of various organisations related to public health and systemic change in Pune, India. Print, online, broadcast and radio media are welcome to register their interest in this story.
We would welcome your interest to interview the following spokespeople:

Martin Kalungu-Banda
Adirupa Sengupta, International Director, Common Purpose
Dr. Devi Shetty, Cardiac Surgeon, Narayana Hrudayalaya Heart Hospital
The following Dishaa participants:

Ramnath Ballala, Senior Partnerships Manager, Karuna Trust
Alison Dixey, Operations Director, British Red Cross
Meera G. Harish, Head, Retail L&D, Innovation Council Steering Committee, Titan Industries Ltd
Lynn Henni, Head of International Strategy, Senior Principal, The Scottish Government
Harry Miskin, Consultant, Bell Pottinger Sans Frontieres
Vandana Saxena Poria, CEO, Get Through Guides Pvt. Ltd
We are able to offer the following support material for features:

Films and audio productions developed by participants in Dishaa
High resolution photography
Participant stories, biographies and Dishaa case studies
To register your interest in this story, please contact:
Isabella Betkowski
Media and Communications Officer
Common Purpose
Discovery House
28-42 Banner Street
London EC1Y 8QE
T: +44 (0)20 7608 8122
M: +44(0)7958 560 943
F: +44 (0)20 7336 6844
Skype: cpuk-IsabellaB
isabella(dot)betkowski(at)commonpurpose(dot)org
http://www.commonpurpose.org
Please see the attached background briefing on Dishaa for further information.
# # #