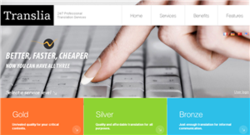 It reduces unproductive time to the minimum during translation.
New York, NY (Vocus/PRWEB) January 28, 2011
Translia, an internationally recognized professional translation business, has invented a technology known as SameFormat designed to improve the efficiency of translators. This will reduce the time cost to Translia and allow the company to pass those savings on to its clientele. SameFormat automates the formatting process, ensuring that the translated document looks the same, visually, as the original without any additional attention. Developed on the heels of numerous other advances in document translation technologies, Translia's invention further help clients save under the global recovery context as discussed in Davos World Economic Forum.
As far as technologies go, the mechanism of SameFormat is rather mundane, but the ramifications, especially for highly specialized texts with multiple bullet points, differing paragraph styles, headers, footers and other formatting elements, are enormous. For instance, presentations with Microsoft PowerPoint and brochures with Microsoft Word. Normally, translators have to spend time not only on the translation of a document but on the laborious deleting and restructuring of paragraphs and lists. When translators have to be editors as well, it cuts down on their efficiency.
That's where SameFormat comes in. The SameFormat program automatically goes through a document and makes note of all the formatting elements. Then, Translia's trademarked SafeTrans program divides the document into sentences and feeds the sentences, one at a time, to a professional translator to translate. Once all the sentences are translated, SafeTrans puts the sentences back in order and sends the full text to SameFormat, which automatically formats the document to look the same as the original. This will realize a quick translation.
SameFormat currently handles many major file types, including .doc (Microsoft Word XP/2000/97) and .docx (Microsoft Word 2007) . It also supports open source documents like .odt and .odp, file types published in Open Office suite by Sun Microsystems (now part of Oracle). The SameFormat technology is, in many ways, just a way to make work easier for Translia. Prior to the invention of this program, a separate translator or worker may have had to put the finished text the original format, which could have taken up to an hour or more, depending on its size. That hour of work would either have to come out of the company's coffers, or out of the pockets of the client. Translia's new SameFormat technology saves companies money on translations, frees up funding for Translia to serve companies better, ensures that translators don't make mistakes in editing and formatting by automating the process, and allows translators to focus their whole attention on translating.
Many translation companies charge extra for documents requiring special formatting. With SameFormat technology, businesses can be sure that these extra costs won't be added on to their translation fees when they translate with Translia.
Translia is the largest translation platform on the web. By sourcing the talents of 10,000 translators worldwide to provide service in 98 different languages including Spanish, French, Korean translation and Polish translation, the company has proven itself to be a global leader in the field of translation. Furthermore, Translia has consistently been at the forefront of new technologies designed to harness the power of computers to make translation more efficient. Businesses, governments and private individuals around the world rely on Translia to handle a wide variety of projects, from speeches, manuals, articles and even entire books.
Translia is confident that its SameFormat technology, though seemingly mundane, represents a crucial next step when it comes to modernizing translation services and making them affordable, efficient and convenient for all.
# # #