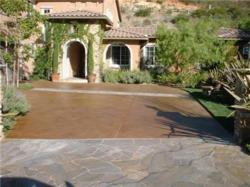 Calimesa, CA (Vocus/PRWEB) February 17, 2011
Consumers looking to install a new driveway surface that is both durable, and long-lasting, are exploring the many benefits that concrete has to offer. ConcreteNetwork.com has compiled a list of six of the most frequently asked consumer questions and answers regarding concrete driveways.
Considering the many hardscaping materials available for driveway installations, consumers are often left to wonder what concrete has to offer over the rest. Here are six of the most commonly asked questions consumers have about installing a new concrete driveway:
1. How do I find the right contractor to install my driveway?
2. Do I need to seal my new driveway?
3. What do I do if the driveway cracks?
4. What if the color isn't what I expected?
5. What are typical costs of installing a stamped concrete driveway?
6. Can I get a warranty for my new driveway?
Covering each question in detail, the site also provides many additional resources consumers can visit to explore each question more exclusively.
Concrete continues to deliver the most options for consumers wanting a totally customizable surface. For detailed answers to these questions and more information on choosing concrete as a driveway material, visit ConcreteNetwork.com.
Established in 1999, ConcreteNetwork.com educates consumers, builders, and contractors on popular decorative techniques and applications. These include stamped concrete, stained concrete, concrete countertops, polished concrete, and much more. Over 12 million people visited The Concrete Network in 2010 to research, get ideas and to find a contractor.
The site excels at connecting buyers with local concrete contractors through its Find a Contractor service. The service provides visitors with a list of decorative concrete contractors throughout the U.S. and Canada, and is fully searchable by more than 20 types of decorative concrete work in over 200 regional areas throughout North America.
Article photos courtesy of Concepts in Concrete Construction Inc in San Diego, CA. Attached photo courtesy of Skeel's Concrete Resurfacing in San Jacinto, CA.
# # #