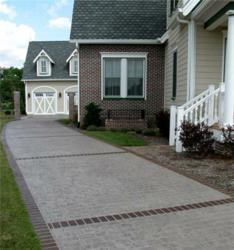 Calimesa, CA (Vocus/PRWEB) March 11, 2011
Driveways around the country are being made-over from drab gray surfaces to custom designed works of art using decorative concrete applications. ConcreteNetwork.com now offers consumers a list of the top five decorative concrete options for existing concrete driveways. Consumers can research and learn about the many benefits each application has to offer.
Decorative concrete has long been a viable option for homeowners looking to update an existing concrete surface. Recent trends show that homeowners are becoming more and more interested in enhancing the curb appeal of their home by installing a decorative concrete driveway.
Here are The Concrete Network's top five decorative concrete options for driveways:
1. Stampable overlays and Microtoppings
2. Concrete engraving
3. Sawcut patterns
4. Random cut patterns
5. Staining
These decorative concrete applications offer consumers a great alternative to replacing an existing driveway, and can be fully customized to meet each individual's needs. Aside from their aesthetic appeal, these applications offer consumers a low-maintenance, highly durable surface that can stand up to harsh weather climates and high traffic, an optimal option for a driveway surface.
For detailed information regarding the above mentioned design options, and in depth articles on driveways and other concrete surfaces, visit ConcreteNetwork.com.
Established in 1999, ConcreteNetwork.com educates consumers, builders, and contractors on popular decorative techniques and applications. These include stamped concrete, stained concrete, concrete countertops, polished concrete, and much more. Over 12 million people visited The Concrete Network in 2010 to research, get ideas and to find a contractor.
The site excels at connecting buyers with local concrete contractors through its Find a Contractor service. The service provides visitors with a list of decorative concrete contractors throughout the U.S. and Canada, and is fully searchable by more than 20 types of decorative concrete work in over 200 regional areas throughout North America.
Article photos courtesy of Artisticrete LLC in Noblesville, IN. Attached photo courtesy of Gkrete Inc in Austin, TX.
###