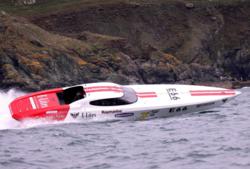 E-Lites are determined to be a driving force in motorsport, as a throwback to the 60s and 70s heyday.
Southampton (PRWEB UK) 16 September 2011
The powerboat world welcomed an exciting new arrival this weekend when leading UK-based electronic cigarette brand E-Lites officially announced their ambitious partnership with championship-winning outfit BananaShark.
BananaShark's spectacular new 37ft powerboat was unveiled for the first time at a launch party at Salcombe's iconic Island Street Bar and Grill, but the celebrations did not last long, as the team embark on a busy programme of racing, exhibitions and even a world record attempt.
After featuring at the UIM Marathon Classic the Cowes-Torquay-Cowes race on 24-26 August, the boat also appeared at the Class 3B World Championships, held in Torquay on 1-4 September, as the official start and finish boat for the three races of the World Championship event.
The boat, with vivid red-and-white livery providing a flashback to the iconic cigarette brands that once adorned F1 cars, will now take pride of place at the flagship Southampton Boat Show, where it will be the feature boat for the final three days of the event, from 23-25 September.
After that, the team have set their sights on a new world record attempt on Lake Coniston in October, before preparations begin for their entry into the RB12 Round Britain campaign next year, which will test endurance levels to the maximum on a 1,700-mile tour of the country's coastlines.
E-Lites, who also sponsor the World 3B Championships 2011, is determined to be a driving force in the sport, and could hardly have chosen a better partner than BananaShark, with six British championships under its belt as a constructor, a Formula One British Championship and a pair of speed records at the hands of lynchpin John Cooke.
Adrian Everett, one of the founding directors of E-Lites electronic cigarettes, will be at the heart of the action as a co-driver for the team. He said: "We're hugely passionate about the powerboat scene and delighted to be getting involved in a way that reflects the energy and enthusiasm we put into our market-leading products. That winning mentality should stand us in good stead for the many challenges we have set ourselves as a powerboat team.
"Perhaps best of all, we feel privileged to be joining up a historic circle by re-establishing that fantastic connection between cigarette branding and high-speed motorsport. We're back in the race! However, things have moved on a great deal since the 60s and 70s heyday of those classic partnerships. This is 2011 and just as technology has powered the evolution of the vehicles that are racing, similar technical advances have taken smoking into a new age.
"With E-Lites, we have invested in pioneering technology to create the most credible alternative to tobacco cigarettes. Our mission has been to provide smokers with an enjoyable and authentic smoking experience – but one that is significantly healthier, better value and unrestricted for use in almost all public places."
John Cooke of BananaShark said: "I'm extremely proud to be standing alongside E-Lites and launching such a fantastic powerboat after almost 18 months of development. Working with a number of technical partners including marine electronics company Raymarine and engine importer E P Barrus, we believe we've created a craft that will challenge the very best in terms of speed and reliability, which is the key to successful endurance racing. We have already planned a great deal of activity over the next year and there's a lot more to come so watch this space!"
# # #