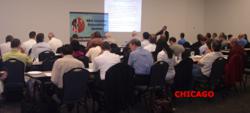 I'd like to say how much I enjoyed the meeting. It was a very good investment of my time and money.
Orlando, FL (PRWEB) September 20, 2011
Top-notch legal experts will speak at the National Commercial Real Estate EB-5 Finance Forum in Orlando on September 30, 2011. The one day event will feature some of the most respected EB-5 legal and business experts in the industry.
Mr. Robert Divine, Attorney and Shareholder, Baker Donelson
Mr. Robert C. Divine, leader of the Firm's Immigration practice group and a shareholder who works from the Firm's Washington, D.C., and Chattanooga offices, concentrates his practice in business immigration and litigation. By presidential appointment, Mr. Divine served in Washington, D.C., from July 2004 until November 2006 as Chief Counsel of United States Citizenship and Immigration Services (USCIS), the world's largest immigration services agency within the U.S. Department of Homeland Security. From July 2005 until July 2006, he served as Acting Director and then Acting Deputy Director of USCIS.. Mr. Divine represents many business developers in creating, managing and using "Regional Centers" that can create indirect jobs toward the 10 new U.S. jobs whose creation can give rise to EB-5 permanent residence for investment in the developers' projects. He was elected Vice President of the national industry association of "EB-5" Regional Centers, Association to Invest in USA (IIUSA). He represents developers similarly using other parties' Regional Centers. He coordinates this work with attorneys supporting securities law compliance in offerings to investors, with economists identifying "targeted employment areas" and projecting indirect job creation, with licensed securities brokers coordinating offerings, and with attorneys obtaining U.S. Government (OFAC) licenses to serve investors from restricted countries (Iran). He also represents individual investors in obtaining conditional permanent residence and in removing conditions from permanent residence. Topic: EB-5 Alternative Finance for Commercial Real Estate Projects
Mr. Ronald Fieldstone, Attorney & Partner, Arnstein & Lehr LLP
Mr. Fieldstone is a member of the Real Property, Probate and Trust and the Tax Law Sections of The Florida Bar. He served as a panel member of the American Arbitration Association for 17 years and is a title agent of several title insurance companies. Mr. Fieldstone has published numerous articles and has been a lecturer in the fields of real estate, corporate, tax and franchise law for the past 30 years. He practices in the areas of real estate, corporate and taxation, with a specific emphasis on the corporate and tax planning of complex real estate transactions. Mr. Fieldstone has been listed in the 2004, 2005 and 2006 issues of Florida Trend as one of the elite attorneys in Florida in the field of Real Estate Transactions and was previously listed in the South Florida Business Journal as one of the top attorneys in Commercial Transactions in Miami-Dade County. Mr. Fieldstone was a principal in a Blockbuster Video franchise that operated 25 stores in eight states from 1987 until October, 1995, when the business was sold to the franchisor. He is a principal of a multi-state lithotripsy company and a Miami-based medical diagnostic company. He was also a principal of Barnie's Coffee and Tea, Inc., the owner of the Barnie's operating system with approximately 80 corporate units and 20 franchised units. Mr. Fieldstone has extensive real estate holdings in the state of Florida and serves as a managing partner of Landmark Residential, which has served as the sponsor and manager of approximately 20,000 multi-family units in the states of Florida, Alabama, Georgia, Texas and North Carolina. Mr. Fieldstone has been active in numerous civic and charitable organizations, including currently serving as vice president, director and chairman of the Institutional Review Board of the Miami Jewish Home and Hospital for the Aged, general counsel and a trustee of the Society of Laproendoscopic and Endoscopic Surgeons, and special counsel and an advisor to the Board of Trustees of Actors Playhouse at Miracle Theater. Topic: EB-5 Finance & Securities Issue for Real Estate Investment
The one day forum will provide a comprehensive overview on the federal EB-5 regional center pilot program that is heavily marketed and promoted in China, Korea, and other countries. Come learn how commercial real estate developers can join forces with EB-5 capital to finance real estate and hospitality development projects around the country. "EB-5 capital has been funding various job-creating development projects throughout the country, the federal immigrant investor program allows foreign nationals to invest in the country and in exchange of possible legal residence, the capital from foreign investors help create local jobs for tens of thousands of Americans." says Brian B. Su, CEO of Artisan Business Group, Inc. The event will provide the latest market, legal and economic information, and updates to commercial real estate developers, financial professionals, immigration attorneys and economic development officials who are interested in stimulating local economy and creating jobs by utilizing the federal EB-5 program. The event will also feature other VIP speakers Mr. Ed Beshara, Dr. Scott Barnhart, Ms. Jon Ann Clarke, Ms. Hong Yu and Mr. Brian Su.
The federal EB-5 Regional Center Pilot Program has been created to allow foreign investors to invest in commercial enterprises in the U.S. in exchange for a chance for them and their families to become legal permanent residents in the U.S. To date, nearly 180 EB-5 regional centers have been designated by the U.S. government and many more local commercial real estate developers and economic development agencies are actively seeking alternative capital to fund its projects. As a result of this unique federal program, several billion dollars in investment has brought into various investment projects and tens of thousands of American jobs have been created throughout the country.
For more information about the National Commercial Real Estate EB-5 Finance & Investment Forum at Hyatt Place Orlando Airport Northwest, please log on http://www.EB5InvestmentForum.com.
About Artisan Business Group, Inc.
Artisan Business Group, Inc. specializes in China-U.S. investment consulting and advisory services. For additional information, please log on http://www.ArtisanBusinessGroup.com
###