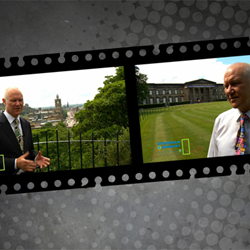 Steedman and Company are very proud to be sponsoring the Edinburgh International Film Festival again.
Edinburgh, Scotland (PRWEB UK) 1 June 2011
Edinburgh accountants Steedman and Company have sponsored the Edinburgh International Film Festival for the second year in a row, as well as producing their own documentary about the state of the UK economy.
What excites film makers and accountants? Twenty-five years after Ricky Steedman appeared on Scottish Eye explaining how he successfully defends small business people from heavy-handed HMRC investigations, the Edinburgh tax accountants have starred in a documentary about business in and around Edinburgh and the company's commitment to the Edinburgh Film Festival.
Ricky stated that the key is to get involved with businesses and the community and offer a personal service, such as going out to their premises, as well as having a very strong in-house team.
'Having a small family unit and making all your clients feel part of it is the secret to growing a business at a fast rate.' Ricky explained.
'The economy may be uncertain but consultants who are well placed to offer solid, level-headed advice have the advantage. What we have to do in this country is stimulate small business and people who are losing their jobs have to take up self employment, get the economy going again and think positively about building Britain back up into something that used to be a fantastic success.'
'And we are very proud to be sponsoring the Edinburgh International Film Festival again.'
'Going into the future we believe Steedman can be an all round business support service encompassing the planning and administration side but also marketing and design,' said Russell. 'We can give businesses the machinery to operate but also the presentation. That is a unique service.'
Meanwhile for business people interested in learning about the role they can play in reinvigorating the UK economy ex Revenue tax expert Ricky Steedman discusses the latest economic growth forecasts and a lot more in the new documentary which is available on the company's website.
Edinburgh, Newcastle and UK business owners, as well as self employed people, can contact Ricky on 0131 556 8595 for more information.
About Steedman and Company
Established in the late 1980′s Steedman and Company now have an impressive and sprawling client list. From the outset Steedman and Company have helped new businesses get off the ground and run smoothly as they grow towards a prosperous future.
Steedman and Company has:

Been established for over two decades
Ex Revenue and Customs personal in our team
UK-wide – we have offices in Scotland and England
Years of experience in helping new business
The best systems in place for streamlining existing businesses
A friendly and informal team of tax accountancy professionals
Further information Contact:
Steedman and Company Ltd
7 Howe Street
Edinburgh EH3 6TE
Tel: 0131 556 8595
Email: ricky(at)steedman(dot)co(dot)uk
Newcastle Office
Tel: 0191 271 0827
Email: debbie(at)steedman(dot)co(dot)uk
Website: http://www.steedman.co.uk
Design by our web designer in Edinburgh
###