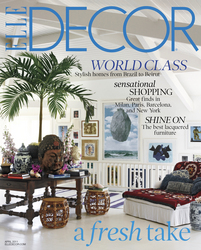 "Even in this era of global homogenization, no one is in danger of mistaking Rome for Rio or Hong Kong for Helsinki. The distinctive qualities of each place, shape the way people live there. And that's what we explore and celebrate." Michael Boodro
New York, NY (PRWEB) March 10, 2011
ELLE DECOR provides a passport to the world's chicest places, products, homes, restaurants, shopping, and parties in its April International Issue, on newsstands March 15, 2011. The issue also marks the debut of several new features including Unconventional Wisdom, a newly revamped Punch List page, and Inspirations: Status Update.
As Editor in Chief Michael Boodro says in his letter: "Even in this era of global homogenization, no one is in danger of mistaking Rome for Rio or Hong Kong for Helsinki. The distinctive qualities of each place, the idiosyncrasies and special delights, shape the way people live there. And that's what we explore and celebrate in this, our annual international issue."
Highlights of the issue include:
ED Goes to Barcelona: An insider's guide to Spain's most pleasurable city–with great food, sunny beaches, and outstanding Art Nouveau architecture.
What's Hot! Shops: Five secret style sources in Milan that even the design cognoscenti don't know about.
Inspiration: Status Update: Inspired by "Paris: Life & Luxury," a new exhibition at L.A.'s Getty Center, Status Update compares status symbols of 18th-century Paris with those held dear in 21st century New York – they may be different, but the impulse behind the acquisitions never changes–the desire to impress with the best.
Punch List: Beginning in this issue with an in-depth look at indoor and outdoor flooring, Punchlist each month canvasses a number of noted designers and architects for their renovation advice, tips, and favorite products.
Unconventional Wisdom: This new feature will distill each month the principles and practices of style leaders, beginning with acclaimed decorator Mario Buatta's insights on color.
International Homes:
Brazilian designer Sig Bergamin's fantastic, exuberant beach house in Porto Seguro, that brings together indoors and out
Tim and Kit Kemp of Firmdale Hotels, owners of New York's Crosby Street Hotel, open the doors to their quirky townhouse in London, rich in patterns, bold color, and traditional English comforts
The Umbrian villa of Antonello Radi, where generations of family finds meet the owner's collections of international textiles and rugs, mid-century furniture, and vivid artworks
Painter Nabil Nahas's apartment in Beirut, a masterful mix of grand 19th-century colonial style with the best French pieces of the 1930s and 40s
Elledecor.com's April features include:
Nathan Turner's Party Tips: Turner's Indian feast featured in the April issue proves the decorator to be a consummate entertainer. Online, he shares tips for throwing a party with confidence and flair.
Magic Carpets: With punchy colors and patterns, the best rugs can put the finishing touch on any room.
Fantasy Island: Who doesn't dream of an island? A kitchen island that is. It can be the focal point not just of the kitchen but of the entire home.
How to Hang Art Like a Pro: The joy of a new piece of art can quickly turn to stress when it comes time to hang it. How high should it be mounted? How can it be arranged with other pieces to create an inspired effect? And, crucially, how can you be sure it won't end up crashing to the floor? Here's all you need to know to hang with confidence.
###