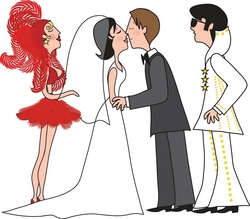 "This year, there's no need to go to Vegas to get married by Elvis," remarked Festival Talent Director Terry Collins.
Queensbury, NY (PRWEB) February 15, 2011
Planning is underway for the Eighth Annual LakeGeorge.com Elvis Festival(June 2-5, 2011) and festival organizers have announced the addition of two new events.
The four-day festival celebrates the life and music of Elvis Presley. Events include three days of competition featuring more than 50 Elvis tribute artists, a classic car parade through Lake George Village, Elvis Cruises on Lake George, Elvis After Hours Parties, an Elvis Collectibles sale and Las Vegas-style headline shows throughout the weekend.
"We're really excited to be adding some fabulous new events," commented Festival Director, Jason Sherry. The first of the two events will be a new show on Thursday night called Interpreting Elvis. The show will feature two Elvis Tribute Artists, "unplugged." "Dwight Icenhower and Ted Torres are two fantastic performers in their own right and this show will give them the ability to interpret Elvis' music with their own style, out of character and out of costume," said Mr. Sherry.
The second new event planned for 2011 is The Ultimate Elvis Wedding. Taking place on Sunday, the final day of the festival, The Ultimate Elvis Wedding will offer Elvis fans the ability to get legally married or have their vows renewed by ordained minister and Elvis Tribute Artist, GaryElvis Britt. "This year, there's no need to go to Vegas to get married by Elvis," remarked the festival's Talent Director, Terry Collins. "It will be quite a spectacle." The Ultimate Elvis Wedding takes place during the Elvis Gospel Music Event which is free and open to the public.
Tickets for the 2011 LakeGeorge.com Elvis Festival are currently on sale. For more information, a complete schedule of events or to order tickets visit LakeGeorgeElvisFest.com, or call (518) 681-7452.
About The LakeGeorge.com Elvis Festival
Launched in 2004, the LakeGeorge.com Elvis Festival brings more than 4,000 spectators to the shores of Lake George each spring to honor and celebrate the life and music of the King of Rock and Roll. The festival is produced by Sherry Management, LLC under license from Elvis Presley Enterprises, Inc. Learn more at LakeGeorgeElvisFest.com.
About Sherry Management, LLC.
Sherry Management, LLC is a Lake George, NY-based event production and management company. In addition to producing the LakeGeorge.com Elvis Festival, Sherry Management also produces the New England Elvis Festival, the Pocono Mountains Elvis Festival and other events in the Northeastern US. Visit SherryManagement.com for more information.
About Elvis Presley Enterprises, Inc.
Elvis Presley Enterprises, Inc. (EPE) is based in Memphis, with additional offices in Los Angeles. In addition to Graceland and its related attractions in Memphis, EPE administers a worldwide licensing program, merchandising, music publishing, and television, film, video and Internet projects. For more information on EPE and Graceland, visit http://www.elvis.com. EPE is a subsidiary of CKX, Inc.
###