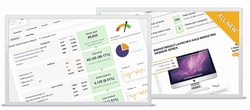 Marketbright is easy to setup, easy to use, and easy to integrate.
San Bruno, CA (PRWEB) February 17, 2011
Marketbright, a leading on-demand integrated marketing solution, today announced the release of their new email marketing beta. Between now and March 1st, the first 100 customers who sign up lock in six months of free service. This offer is good while supplies last.
Marketbright's new release focuses on the next generation of email marketing requirements, combining an unparalleled ease of use, innovative and groundbreaking design, and a robust and scalable cloud based architecture. "We had the opportunity about a year ago to redefine email marketing" said Erik Bower, CEO of Marketbright. "We thought about what we wanted to see in an email solution and we asked our customers what they wanted. With a focus on total quality and innovation, we believe we've produced the best in class solution. Marketbright is easy to setup, easy to use, and easy to integrate."
With a launch on February 14th, the company has reported 23 beta customers who are already on board and actively using the new solution. The remaining 77 slots are going quickly, so customers are encouraged to reserve their spot by going to http://www.marketbright.com/go/32227
About Marketbright
Marketbright delivers on demand integrated marketing solutions, allowing marketing professionals to deploy strategic campaigns and demonstrate the ROI of marketing. The company is privately held and headquartered in San Bruno, Calif., and can be reached http://www.marketbright.com/go/32227
Press contact: pr(at)marketbright(dot)com
###