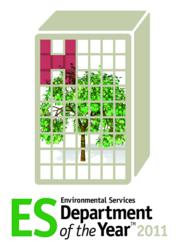 The fifth annual award, sponsored by Cintas Corp., recognizes the outstanding achievements of a leading-edge hospital ES/housekeeping team in maintaining the highest levels of performance in 13 critical areas.
Chicago, IL (PRWEB) September 28, 2011
As hospitals continue to focus on ways to improve patient safety by employing best practices in cleaning the hospital environment, Health Forum's Health Facilities Management magazine and the Association for the Healthcare Environment (AHE) have selected Advocate Christ Medical Center/Hope Children's Hospital (ACMC), Oak Lawn, Ill., as the winner of the 2011 Environmental Services (ES) Department of the Year Award. The Children's Hospital of Philadelphia received the Finalist Award in this year's program.
The fifth annual award, sponsored by Cintas Corp., recognizes the outstanding achievements of a leading-edge hospital ES/housekeeping team in maintaining the highest levels of performance in 13 critical areas, including:

Infection control and prevention
Patient safety initiatives
Customer service
Waste reduction and recycling initiatives
Employing advanced technologies to improve efficiency
Staff education/training
Patient satisfaction
Engaging senior management in the ES department's success
The awards are based on performance levels achieved during the 2010 calendar year.
Among the ACMC team's many accomplishments were scoring in the 95th percentile nationally for room cleanliness and courtesy at Hope Children's Hospital and reducing patient room turnover times from 73 minutes to 44 minutes. In addition, the team contributed to the facility's success in significantly reducing health care-associated infections. Overall, ACMC saw a 55 percent decrease in Clostridium difficile rates thanks to the integrated working relationship between the environmental services team and infection prevention specialists. The team also has implemented effective recycling and waste management programs, including a sharps recycling program that is expected to achieve savings of $350,000 over a five-year period.
The Children's Hospital of Philadelphia ES Team achieved similarly impressive results. Its waste reduction programs have helped the institution avoid more than $845,000 in costs annually when compared with expenses incurred over the previous five years. Its evidence-based surface cleaning monitoring program, close working relationship with infection prevention specialists and other factors have led to sustained reductions in hospital-associated viral infection rates. The hospital's nosocomial viral infection rate was at or below 0.5 per 1,000 patient days in nine of 12 months in 2010. The team's innovative and comprehensive staff-training programs also have contributed to sustained performance improvement.
A panel of judges selected by Health Facilities Management and AHE reviewed this year's entry applications and selected ACMC based on its documented results in 13 performance criteria. The award was presented to Karen Martin, R.N., ACMC's director of infection prevention and environmental services, at the AHE conference in Orlando. Nancy Schneck, director of environmental and linen services, and Tina Cermignano, CHESP, business and department operations manager, accepted the Finalist Award on behalf of The Children's Hospital of Philadelphia. Health Facilities Management profiled the ES teams from the winning organizations in its September issue in a story titled "Beating the Challenge." The article is posted at http://www.hfmmagazine.com.
Certificates of Merit also were issued to:

Altru Health Systems, Grand Forks, N.D.
Baptist Memorial Hospital, Union City, Tenn.
Evans Army Hospital, Fort Carson, Colo.
Robert Wood Johnson University Hospital-Hamilton (N.J.)
Swedish Medical Center, Seattle
Saint Barnabas Medical Center, Livingston, N.J.
Union Hospital, Terre Haute, Ind.
Health Forum, Health Facilities Management and AHE are part of the American Hospital Association.
About Health Forum
Health Forum is a strategic business enterprise of the AHA, creatively partnering to develop and deliver essential information and innovative services to help health care leaders achieve organizational performance excellence and sustainability.
About AHA
The AHA is a not-for-profit association of health care provider organizations and individuals that are committed to the improvement of health in their communities. The AHA is the national advocate for its members and comprises more than 5,000 member hospitals, health systems and other health care organizations, and 38,000 individual members. Founded in 1898, the AHA provides education for health care leaders and is a source of information on health care issues and trends.
# # #