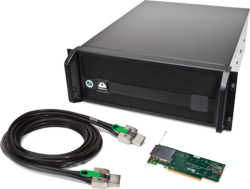 ExpressBox 16 is the highest capacity and fastest "off-the-shelf" PCI Express expansion solution available today
San Diego, CA (PRWEB) October 05, 2011
Magma, an innovative and visionary developer of PCI Express® connectivity products, announces immediate availability of ExpressBox 16 Basic, a sixteen slot PCI Express expansion chassis used to seamlessly increase the number of high-speed PCI Express slots for servers and workstations. ExpressBox 16 attaches to the computer through an x8 or x16 PCIe interface card that extends PCI Express signals over a high-bandwidth cable to sixteen (16) PCIe slots in the external rack-mount enclosure. All cards installed in ExpressBox 16 are available to the host system and operate at PCIe 2.0 speed (aka PCIe Gen 2).
"ExpressBox 16 is Magma's fastest off-the-shelf PCI Express expansion solution," says Randy Jones, CEO and President at Magma, "The I/O capacity offered by ExpressBox 16 is ideal for applications that require large numbers of fast I/O in a single container. With a connection speed up to 80 gigabits per second, ExpressBox 16 is an ideal solution for enabling industries such as HPC, telecom, storage, surveillance and defense and aerospace to address their I/O subsystem needs."
Product Information
ExpressBox 16 is designed around a heavy-duty 4U rack-mount enclosure containing sixteen (16) PCIe slots and consists of a choice of two interconnect links, x8 or x16, over a rugged 3 meter iPass cable. Two ExpressBox 16 Basic configurations are available:

EB16-BX4 includes sixteen x4 PCIe Gen2 slots (with 850W power supply)
EB16-BX8 includes fourteen x8 slots and two x16 slots (850W, 1700W or 850W redundant power supply)
The customer chooses either a x8 or x16 link:

PCIe Gen2 x8 host adapter and cable (40Gbps)
PCIe Gen2 x16 host adapter and cable (80Gbps)
Pricing and Availability
ExpressBox 16 Basic starts at $4500 and is available online at Magma or through authorized distributors.
About Magma
Magma develops and manufactures PCI & PCI Express Expansion Systems for servers, desktops and portable platforms. Magma's patented expansion products extend your system's PCI and PCI Express outside the computer over cable to a chassis containing additional card slots. Magma's ExpressBox™ line of products includes enclosed and non-enclosed solutions ranging from low-end single slot expansion products to fault-tolerant, highly reliable, available and serviceable (RAS) chassis specifically designed for mission critical environments. Magma is dedicated to providing rock solid expansion products for the most demanding configurations. As new interconnect protocols become available, Magma will continue its leadership position at the forefront of expansion technology innovation.
Magma products are platform independent, and are used in a variety of industries including audio and video production, test and measurement, medical imaging, surveillance, aerospace and defense, telecommunications, data acquisition, and high performance computing. Magma's team of experienced engineers has been developing expansion and connectivity solutions since 1987. Magma products are assembled in San Diego, CA and go through rigorous certification and quality processes. Magma is the trade name of Mission Technology Group, Inc.
For more information about our company or products, call (800) 285-8990 or (858) 530-2511 or visit our website at http://www.magma.com.
Magma is a trademark of Mission Technology Group, Inc. All trademarks are the property of the respective trademark owners
###