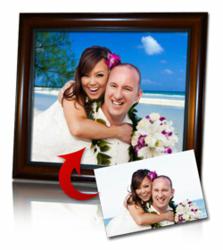 Gemstone Art is exquisitely beautiful and truly one-of-a-kind gift - perfect for treasuring precious moments of your life forever.
(PRWEB) November 25, 2011
Dante Gems™ announces the opening of the first website that enables customers to upload a photo that is important to them and purchase a custom piece of gemstone art made from the photograph online. Artists who work with gemstones say the medium makes favorite photos suddenly seem alive by capturing them in an exquisite style reminiscent of mosaic art created by the Italian Masters.
For centuries, mosaics have conveyed messages to people who visited. The well-known Navicella mosaic at St. Peter's Basilica in the Vatican tells the story of St. Peter walking on the water. At the Church of San Vitale, a church in Ravenna, Italy that is most famous for its wealth of Byzantine mosaics, one of the images shows Roman Emperor Justine I wearing a halo of gold. Another image at the church depicts Empress Theodora, also wearing a halo and numerous jewels. It seems clear what message the artist was expressing about the emperor and empress.
Today, hand painted oil portraits that have been upgraded to gemstone art tell a story in a way no other work of art can. Now anyone with deep enough pockets can have a gem portrait worthy of the Italian Masters hanging in their own home.
Modern artists say they are taking the work of Italian Masters one step further by creating luxurious works of art made entirely of precious and semiprecious gem stones. Artists at Dante Gems™ say gemstone art was simply the next logical step to take painting and portraiture to the next level.
Nick Co, president of Dante Gems™, says, "There has never been a more unique way to tell a story about your life through fine art. Couples looking for wedding, anniversary or family portrait ideas are simply entranced with the options. A cat or dog portrait is also a great way to remember a beloved pet while also creating an unusual piece of fine art unlike anything else out there."
Dante Gems™ is celebrating its recent online expansion by offering a special Black Friday Promotion - a 15 percent discount coupon which can be redeemed by Christmas 2011. Visitors to the retailer's site also enjoy a number of perks for signing up for the mailing list.
About Dante Gems™:
Gemstone artists at Dante Gems™ are among the most experienced in the world. Their creations are made from millions of gemstones carefully put together by hand, one-at-a-time. The company's offerings include newborn baby, child, engagement, anniversary and family portrait ideas, as well as gemstone upgrades from oil paintings of dogs, cats and other favorite pet portraits.
###