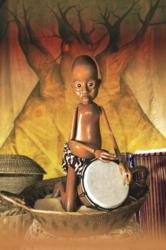 Newark, NJ (PRWEB) October 26, 2011
World-class family entertainment that ignites the imagination, opens young eyes to the magic of live performance, and teaches important life lessons. This is the Verizon Passport to Culture FamilyTime series at NJPAC.
For the 2011-2012 season, with the gracious support of Verizon, The Horizon Foundation for New Jersey and Bloomberg, the New Jersey Performing Arts Center has programmed an eclectic series that includes 16 performances spanning cultural dance, theater, puppetry, story telling and music. Highlights include:

In November, Théâtre Motus' West African puppet tale Baobab, about a boy who finds the courage to change his community and shows the difference an individual can make;
In January, Broadway leading man and master puppeteer John Tartaglia's ImaginOcean — an interactive, glow-in-the-dark, undersea musical detailing a remarkable journey of friendship and discovery;
And in March, the tri-state area premiere of the Imagination Stage's P.Nokio, a hip-hop retelling of the classic fairy tale.
Ticket prices for most FamilyTime performances are $12 for children and $22 for adults. Every FamilyTime performance is followed by a talkback discussion with the artists seen on stage in the Victoria Theater. Tickets may be purchased in person at the NJPAC Box Office at One Center Street in downtown Newark; by telephone at 1-888-GO-NJPAC (1-888-466-5722); or at njpac.org.
The series kicks off November 5th and 6th at 2 p.m. with Théâtre Motus' Baobab, an adaptation of a West African legend about a village plagued by drought and a magical child who summons the courage to save his community. Baobab combines African music with puppetry, drumming song and shadow theater.
With select performances, NJPAC offers a Pre-Performance Workshop, designed for children (ages 5 and up) and accompanying adults. Tickets are $5 for adults and children. Space is limited to 35 attendants per workshop.
For a complete calendar of FamilyTime performances go to http://bit.ly/FamilyTime1112.
New Jersey Performing Arts Center (NJPAC), located in downtown Newark, New Jersey, is the sixth largest performing arts center in the United States. As New Jersey's Town Square, NJPAC brings diverse communities together, providing access to all and showcasing the State's and the world's best artists while acting as a leading catalyst in the revitalization of its home city. Through its extensive Arts Education programs, NJPAC is shaping the next generation of artists and arts enthusiasts. NJPAC has attracted over 6 million visitors (more than one million children) since opening its doors in 1997, and nurtures meaningful and lasting relationships with each of its constituents. Visit http://www.njpac.org for more information.
Programming has been made possible in part by funds from the New Jersey State Council on the Arts/Department of State, a Partner Agency of the National Endowment for the Arts, by funds from the National Endowment for the Arts, and by Discover Jersey Arts.
NJPAC is a wheelchair accessible facility and provides assistive services for patrons with disabilities. For more information, call 888-GO-NJPAC.
###