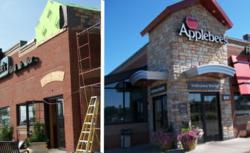 Howard Lake, Minnesota (PRWEB) September 18, 2011
Trilite Stone, a manufacturer and distributor of man-made or faux stone, is announcing a major contract with Applebee's. Specifically the Trilite Stone product is being used on Applebee exteriors in the Twin Cities and other Minnesota locations.
The exterior faux stone is a brand new color scheme developed specifically for Applebee's. This new fresh look can currently be seen on Applebee's restaurants around the metro area as well as Mankato, Owatonna, St. Cloud and other Cities. The contract is expected to run through 2012 in concert with a corporate effort to provide both exterior and interior enhancements, and in multiple upper Midwest states.
Trilite Stone man-made is lighter, installs easier and is less expensive than natural stone, with a similar look and feel. Trilite Stone uses seven base colors that are fully integrated with the stone, allowing one to cut the stone without requiring touch up coloring. While there are many standard styles and colors to choose from, Trilite Stone can custom blend colors to meet specific needs as they did with Applebee's. The customization service was a key reason in why Trilite was awarded the contract, and why architects/designers see Trilite as a valued partner in design elements.
Trilite Stone is a privately owned company with its manufacturing facility located in Howard Lake Minnesota. Trilite Stone manufactures faux stone or cultured man-made stone for interior and exterior structures and for both residential and commercial applications. For more information go to its website http://www.trilitestone.com or call 1-888-786-6626 to speak to a specialist.
###