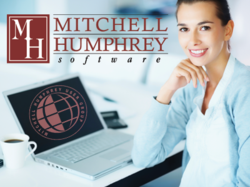 We found many things that will save us time and money.
St. Louis, Missouri (PRWEB) October 23, 2011
Mitchell Humphrey & Co., a provider of software solutions and services to the public sector for over 34 years, held their annual User Group conference in St. Louis in September.
Each year, at this conference, Mitchell Humphrey & Co. takes the opportunity to reveal new and exciting products and updates to clients and users. Their conference began by opening with a discussion about the economy and how businesses and governmental organizations are adjusting to the new normal.
Known for their cutting-edge and innovative software solutions, Mitchell Humphrey took this opportunity to discuss their software solutions and how they are helping clients as they find it necessary to do more with fewer resources. These topics included the upcoming November 2011 release of FMS 2011 and their future development plans for a new Financial Management System called FMS III.
Unveiling Plans for FMS III
At the 2011 User Group conference, Mitchell Humphrey announced that it has begun designing FMS III, a new generation of its Financial Management System (FMS II). The FMS III solution will include all of the robust functionality of FMS II while focusing on simplicity for both power and casual users.
"Our focus is to make it easier for people to find a software solution flexible enough to meet even the most complex organizational requirements, but still easy to use and completely upgradable," added Kim Schaefer, President and Chief Operating Officer for Mitchell Humphrey.
Mitchell Humphrey started its product design by creating an updated and familiar look to the tabs, sidebars, and the Ribbon directly relating to the Microsoft Office® user interface. Through FMS III, users will immediately experience the comfort and ease of navigation identified in all of the new designs, functions, and features. "It is important to add simplicity to each user's experience and FMS III gives us that opportunity," commented Schaefer.
Since FMS III is especially designed for organizations with both power and casual users, the new system design will include many enhancements to core functionality in areas like use tax and retainage set up, helping its users save time through better organization. In addition, FMS III will offer newly enhanced functions and flexibility to recurring invoices, through accounts payable and receivable collections.
Plans to announce the first phase completion of FMS III are expected during the 2012 Users Group conference in Las Vegas. Future plans for the system software include a SharePoint dashboard, alerts, detail transaction inquiry rewrites, a web-based query tool, and a web interface for distributed functions, such as budgets and purchasing.
Release of FMS 2011
During the 2011 Users Group conference, Mitchell Humphrey also announced plans to release FMS 2011 in November of this year. The FMS 2011 solution benefits its users directly through bank reconciliation, new security maintenance, and secure attachment types. The product increases system management capabilities to add out-of-date warnings to the user interface, the ability to configure DayStart to truncate and save error logs, and features a viewer to display the client software version. With its heightened security and added simplicity, FMS 2011 provides an enhanced user experience while satisfying stringent technical support requirements.
In addition, Mitchell Humphrey has redesigned the FMS Exec module and enhanced ASK FMS. The newly designed FMS Exec module provides easier and more secure access to importing and exporting data between FMS and Microsoft Excel. The newly enhanced ASK FMS product includes new dashboards and allows users to store and run multiple reports at the same time on their desktops.
Users found that the MHUG 2011 conference seminars offered new resources and provided them with ways to be more effective. Additionally, they were able to gain information and give valuable feedback on the release plans for both FMS 2011 and FMS III.
"The seminars at MHUG (Mitchell Humphrey User Group conference) were very valuable. The City of Surprise sent six staff members to make sure all of the sessions were attended and the consensus was that these seminars definitely will help us with more efficient ways of conducting business," said Art Urquidez, City of Surprise, Arizona.
Furthermore, the company reported on their success of offering Client Road Show visits, which have been used to demonstrate how clients can maximize the value of their investment in technology and to gather information for the FMS III project. "The Road Show visit was exactly what we needed. We found many things that will save us time and money. Their visit made us aware of all the capabilities of FMS and we immediately worked with Mitchell Humphrey to implement some changes in how we process certain transactions," noted Art Urquidez, City of Surprise, Arizona.
MHUG Enhances Client's Knowledge
"My name is Tracy Morrison from the Virginia Department of Veterans Services. I am the Finance Director for one of our Veterans Care Centers. I have been using FMS for four years now. FMS allows us to seamlessly interface with our state-mandated system and is easy for our staff to use in their daily tasks. We have worked closely with several Mitchell Humphrey representatives to develop accrual basis financial reports which are required by nursing home regulations. We are very pleased with the level of customer service we have received from a very knowledgeable Mitchell Humphrey staff. We would recommend them to other entities that are looking for a more powerful software solution that is customizable for their individual needs. The annual User Group meeting is a great way to meet other users to share best practices." Tracy Morrison, Finance Director, Virginia Department of Veterans Services
Since 1977, Mitchell Humphrey has been providing software and services to clients in both the public and private sectors. Today, clients across North America benefit from our solutions in citizen services, accounting, human resources/payroll, community development, and cashiering. Learn more about Mitchell Humphrey by visiting our web sites at http://www.mitchellhumphrey.com and/or http://www.fasttrackgov.com.
To schedule a free on-line demonstration or web-based learning session on the new features, visit http://www.mitchellhumphrey.com/schedule-a-demo. For more information about Mitchell Humphrey's software solutions or to request a quote, visit http://www.mitchellhumphrey.com/get-information-now.
# # #