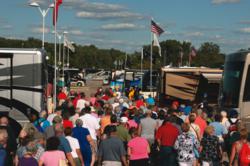 Even before the conclave in Indianapolis, FMCA will offer motorhome owners opportunities to gather for similar events but on a smaller scale.
Cincinnati, Ohio (PRWEB) December 21, 2011
The Indiana State Fairgrounds in Indianapolis will be the epicenter of good times and learning opportunities as Family Motor Coach Association (FMCA) gathers for its 87th Family Reunion and Motorhome Showcase event August 27-30, 2012.
FMCA, an international organization for motorhome owners, is calling the event "Formula For Fun."
The conclave will provide motorhome owners the occasion to explore the local area and to socialize with others who share their interest in the RV lifestyle.
In addition, a full slate of seminars will be offered. Topics include motorhome maintenance, dinghy towing, travel destinations, the RV electrical system, and health and wellness. Approximately 150 different technical and lifestyle topics will be covered, all focused on enhancing the motorhome lifestyle, which is FMCA's mission.
Motorhome dealers and manufacturers from around the country will join in by bringing motorhome models that showcase the latest amenities. Today's RVs include an impressive array of features, allowing travelers to take along all of the comforts of home and then some. And they are available in a variety of sizes and price ranges.
Most FMCA members will drive to the Indianapolis gathering in their motorhomes and stay on-site, having pre-registered for the event. (Registration begins in January 2012 at http://www.fmca.com.)
The public is welcome to join in the excitement as well, by purchasing a pass at the FMCA public gate.
Even before the conclave in Indianapolis, FMCA will offer motorhome owners opportunities to gather for similar events but on a smaller scale. Each of FMCA's nine geographic areas will host regional rallies in 2012, with locations ranging from the West Coast to the East Coast, and points in between.
The year will kick off with the Western Area Rally, set to take place January 11-15 at the Riverside County Fair & National Date Festival grounds in Indio, California. Following closely will be the Southeast Area Rally, February 1-5, in Brooksville, Florida. Memorial Day weekend will bring the Great Lakes Area Rally, May 24-28, in Berrien Springs, Michigan. Summer fun will include the Northwest Area Rally, June 21-24, in North Bend, Oregon; the Midwest Area Rally, June 27-30, in Pecatonica, Illinois; and the Northeast Area Rally, July 19-22, in Essex Junction, Vermont.
The FMCA area rally season doesn't end with the big event in Indianapolis, Indiana. Motorhome owners can enjoy the splendor of fall by attending events in varying locations. The Rocky Mountain Ramble takes place September 11-16 in Gillette, Wyoming. The South Central Area Rally will call Shawnee, Oklahoma, home from September 26 through 30. And the Eastern Area Rally will be celebrated in York, Pennsylvania, October 10-14.
FMCA also has nearly 500 chapters — smaller subgroups organized on the basis of geographic locale, motorhome make or model, or a special interest. Each of them has its own rallies throughout the year. Through chapters, motorhome owners connected to FMCA never lack ways to get out there and have a good time using their rolling homes.
About Family Motor Coach Association • Enhancing The Motorhome Lifestyle
Family Motor Coach Association (FMCA) is an international organization for families who own and enjoy the use of self-contained, motorized recreation vehicles known as motorhomes. The association maintains its national headquarters in Cincinnati, Ohio, and currently has nearly 90,000 active member families. FMCA offers its members a number of benefits, including a subscription to its monthly magazine, Family Motor Coaching; an emergency medical evacuation program; trip routing; mail forwarding; and group rates on an emergency roadside assistance program. Perhaps the most important benefit of FMCA membership is the camaraderie and friendships that develop among people enjoying the common interest of motorhome travel and recreation.
###